Considering staying in a Yurt in Lake District but unsure which are the best Lake District Yurts to choose to stay in, its hard to know where to begin.
We have compiled a list of the best Lake District Yurts available. So if you are looking for a Yurt in Lake District, check out:
9 Stunning Yurts Lake District Has To Offer
Inside Out Camping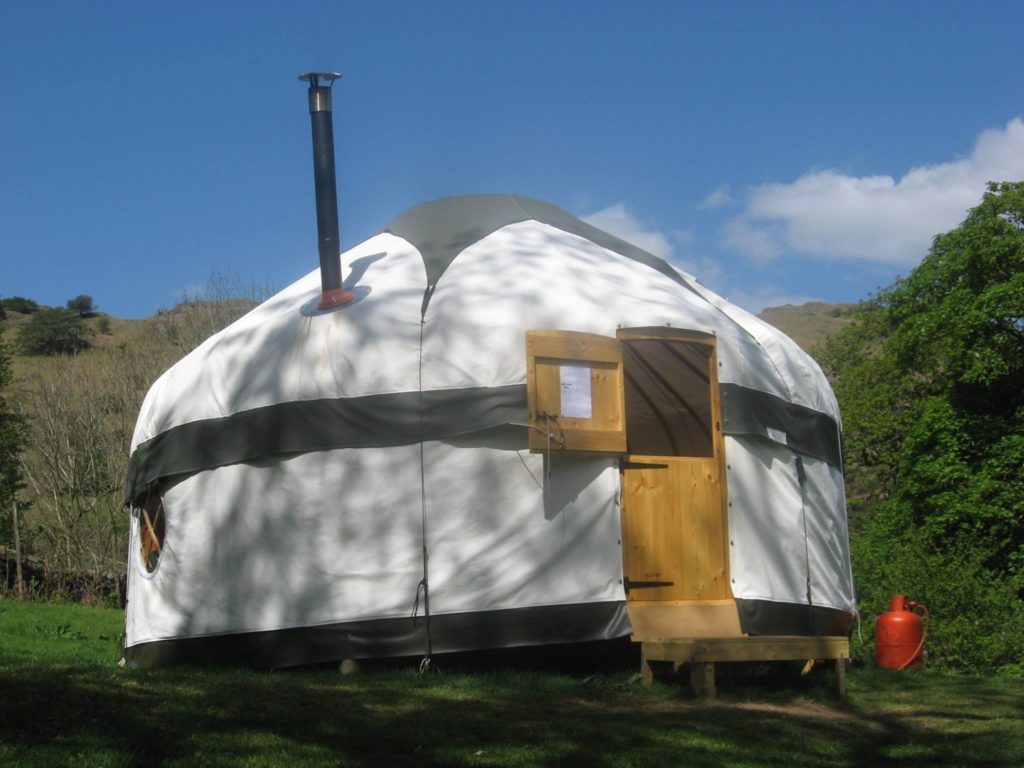 Seatoller Farm, Borrowdale, Keswick CA12 5XN
Inside Out Camping's Yurts in Seatoller, Borrowdale provide you with affordable luxury, the ideal place to come and stay with family or friends as you can wander by the River Derwent.  
There are 6 yurts at the Seatoller farm near Keswick, each can sleep up to six people. The inside of the yurts are high enough to give enough room to walk around comfortably and the structure is equipped to cope with any British weather that may be thrown at them!
For more information visit Inside Out Camping
Wasdale Yurt Holiday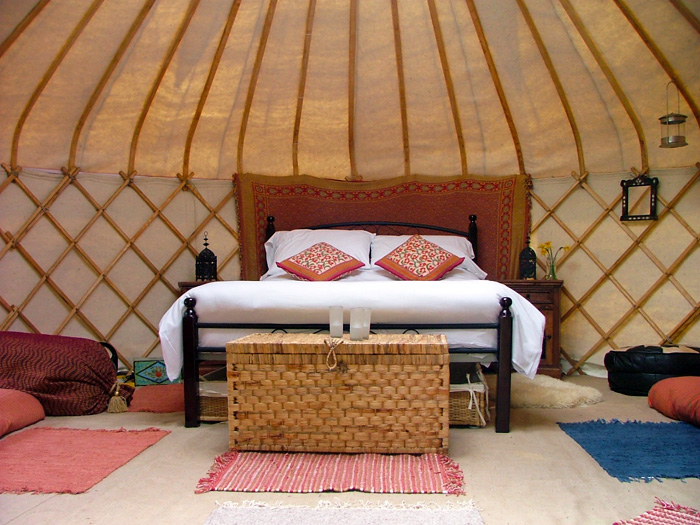 Wasdale Rd, Gosforth, Seascale CA20 1ER
Yurt in the Paddock is situated at Rainors Farm B&B overlooking the Wasdale Valley in the Lake District.
Raised from the ground on wooden decking, fully carpeted and with a window placed so you can gaze out over Scafell Pike and the Wasdale fells without even leaving your bed.
The second yurt, Yurt by the Stream, is in a secluded spot in the wild garden amongst oak and hazel trees, alongside a gentle babbling stream, but still with views of Scafell Pike and the spectacular surrounding landscape.
Both yurts sleep 2 – 5 people and have a BBQ, picnic table and chairs and cooking/cleaning utensils are provided. There is also free WiFi
For more information visit Wasdale Yurt Holiday
Long Valley Yurts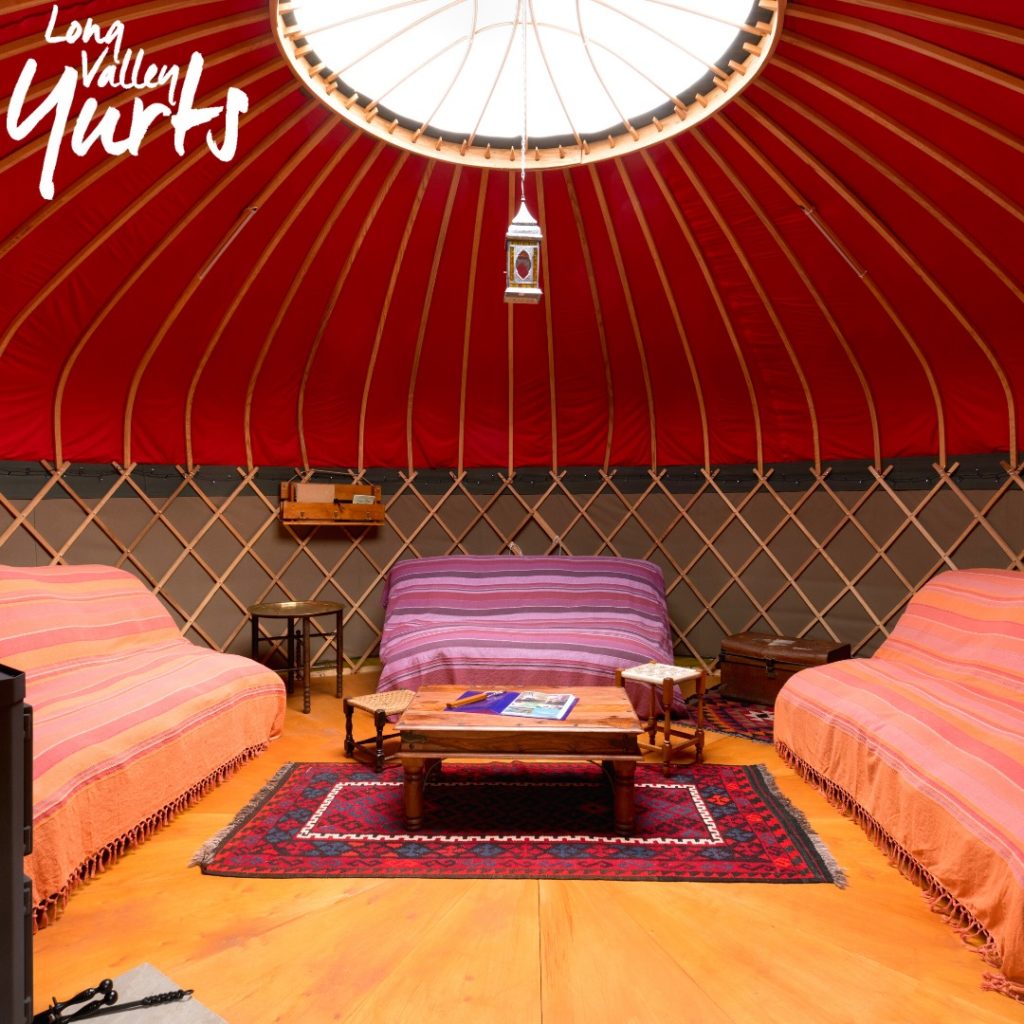 Four locations Ullswater, Coniston, Keswick and Windermere
Long Valley yurts are spread over four locations in the Lake District. All of their yurts have a wood burning stove with integrated oven large hot plate – ideal for additional cooking.
There are futon style beds which conveniently turn into seating during the day. There are fully equipped and functional kitchens with a double gas hob.
The yurts are furnished with a Moroccan feel, consisting of Moroccan lanterns, rugs, seating and furniture and have sky lights for that all important stargazing.
For more information visit Long Valley Yurts
Dry Beck Farm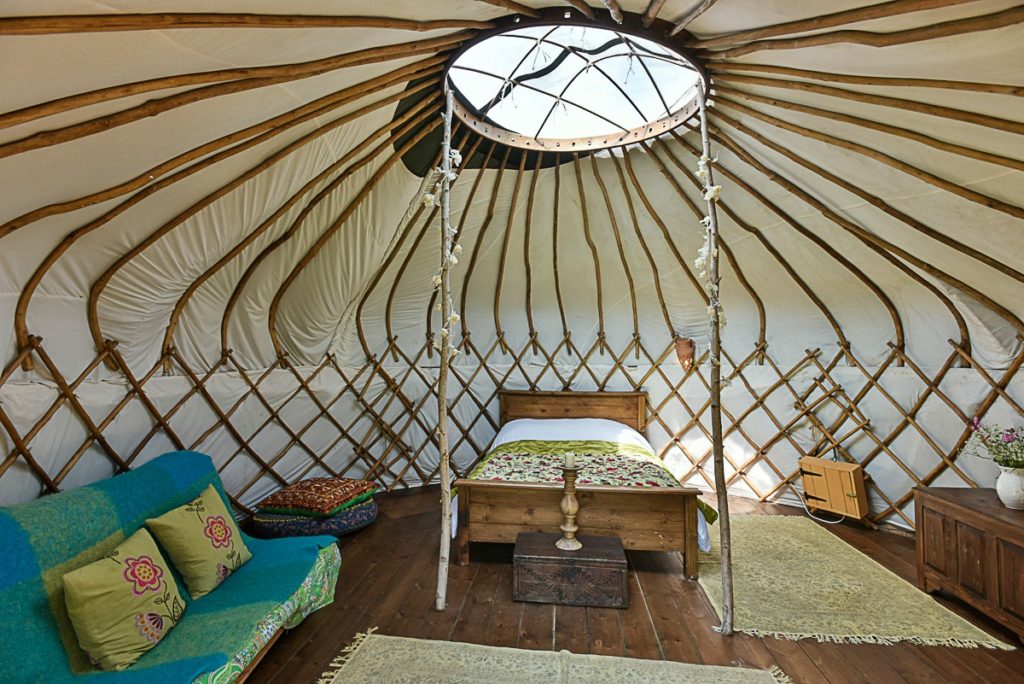 Dry Beck Farm, Armathwaite CA4 9ST
Croglin Yurt, nestles unobtrusively on the river bank. It is handcrafted by the Lakeland Yurt Company from locally grown timber into the perfect rural retreat.
Croglin has a double bed and double futon sofa bed so can sleep up to four people.
Immediately alongside Croglin there is a private cookhouse with a table and chairs a double hob, oven, fridge, running water and all necessary crockery and utensils.
At the back of Croglin in a private garden is a wood-fired hot tub for your exclusive use.
For more information visit Dry Beck Farm
Full Circle Holidays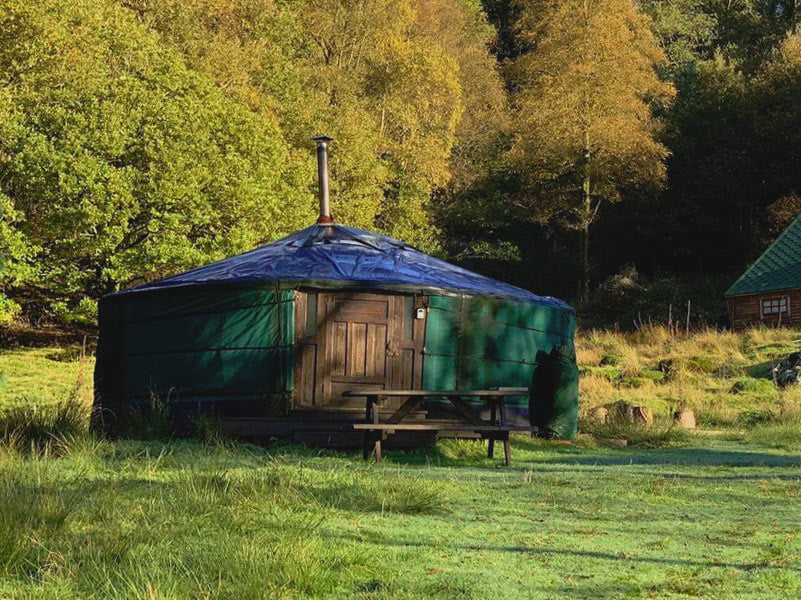 Full Circle, Rydal Hall, Ambleside, Cumbria LA22 9LX
Full Circle Yurts are traditional Mongolian Yurts that have been hand crafted in Mongolia and imported by Ulann Taij.
They are decorated in traditional Mongolian symbols and colours. The yurt sleeps up to six people. There is a standard double bed and twin single beds.
Each has a wood burning stove, drinking water is available from a tap less than 100m metres away. There is uni sex shower facilities and male & female toilets less then 300 metres away from your yurt.
For more information visit Full Circle Holidays
Low Greenside Farm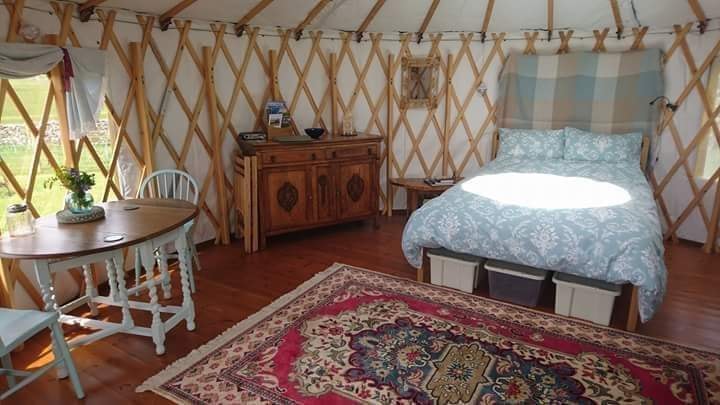 Greenside Ln, Kirkby Stephen CA17 4LU
These fully insulated yurts are 19 feet in diameter and cosily furnished and equipped with a wood-burning stove and fabulous views of the fields and fells.
The roof has a clear central dome and there are two big windows. There is a private kitchen, toilets and hot showers as well as a garden with a BBQ outdoor seatingh and a hammock.
The yurt can sleep a family of five but they are not pet friendly.
For more information visit Low Greenside Farm
Hadrians Wall Country Yurts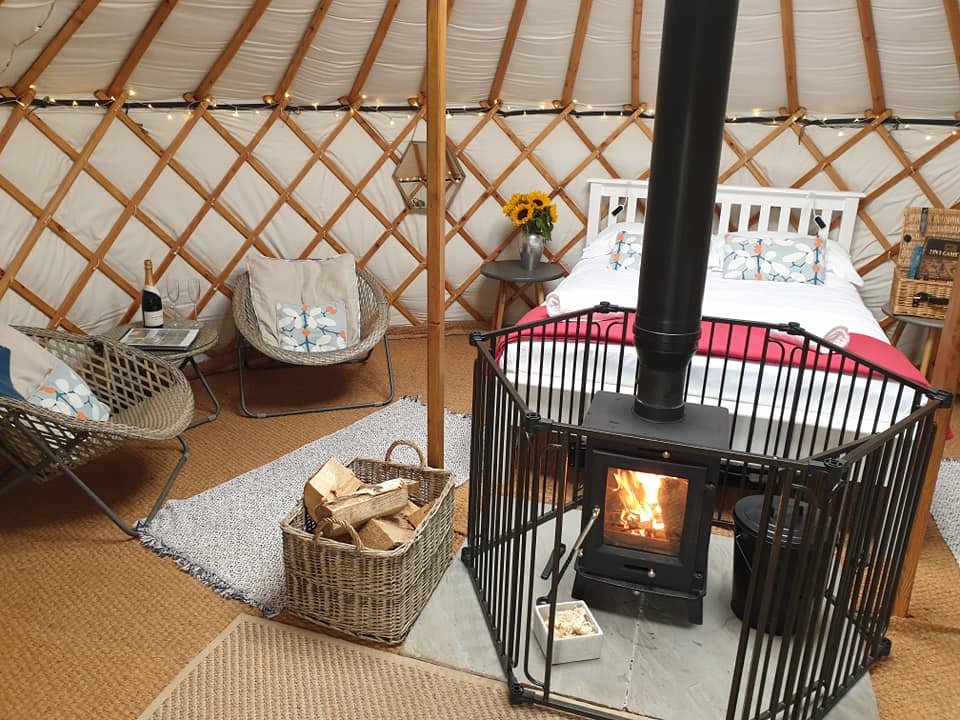 Burthinghurst, Brampton CA8 2JW
These beautiful yurts sit amongst the rugged Cumbrian countryside just a stones throw from Hadrian's Wall.
With plenty of space to roam free, relax and enjoy the wood fired hot tub.  Each yurt comes with its own wood burning stove, double bed, functional kitchen area and two additional camp beds.
Hadrian's Wall Path is just a short distance away making this a great location for those wanting to explore history and the countryside.
For more information visit Hadrians Wall Country Yurts
Syke Farm Campsite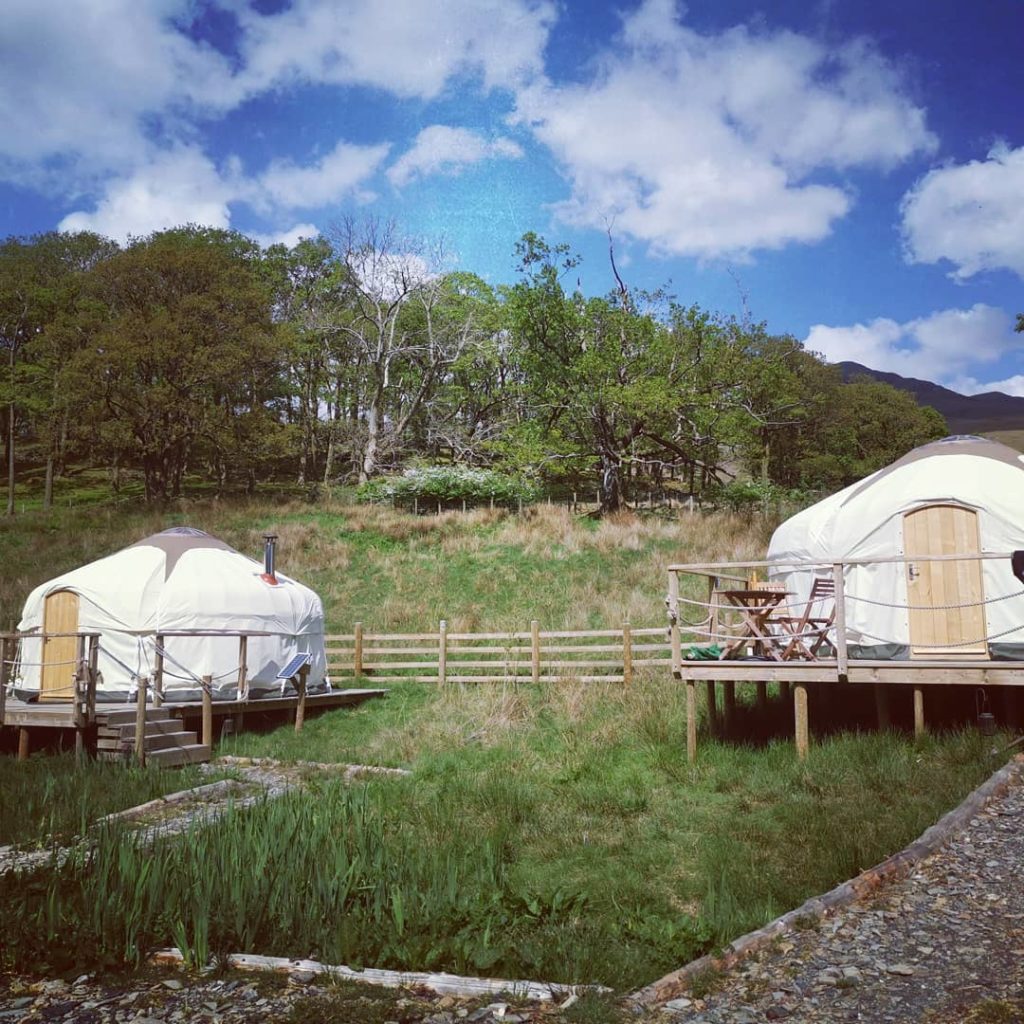 Cockermouth CA13 9XA
Syke Farm Campsite is situated in The Lake District with plenty of activities to suit everybody's needs.
The yurt's are situated on Syke Farm Campsite, in the village of Buttermere, furnished to a high standard and will sleep up to four people with stunning views over the beautiful Lake District scenery.
Both yurt's are 16ft wide and are tall enough to stand up inside. There is a compost toilet, located just outside the yurts and an under cover kitchen area located close by.
The main toilet block with hot showers is operated by tokens.
For more information visit Syke Farm Campsite
Wild in Style – Eden Valley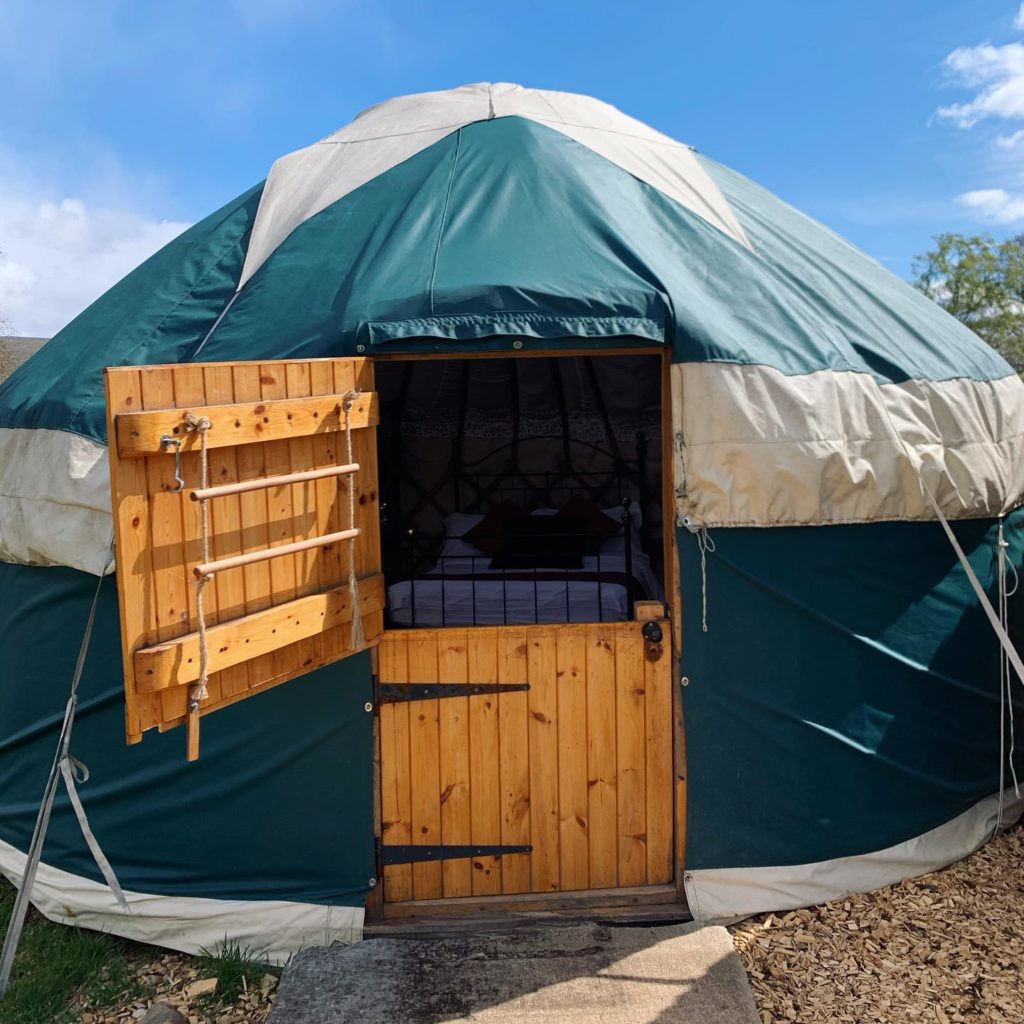 Gill Bank Farm, Penrith CA10 1QA
Wild in Style has moved to the beautiful Eden Valley. If you want the camping experience in the middle of the woods, without the guy ropes and pitching in the rain, this is for you.
Two beautifully presented, exclusive yurts are nestled in a 13 acre woodland. Bifrost has a double bed and a futon double bed and is perfect for connecting with friends around a camp fire, cosy in your yurt with your wood burner on a cold night.
Each yurt has it's own private loo, kitchen area, running water, 12v USB charging and showers.
For more information visit Wild in Style – Eden Valley
Looking for the same kind of accommodation in a different area, check out all the Yurts available