Looking for the best glamping with hot tubs in Yorkshire, then you've come to the right place, whether you are looking for glamping pods with a hot tub Yorkshire, yurts Yorkshire with a hot tub, a shepherds hut with a hot tub Yorkshire, or a safari tent with hot tub Yorkshire.
We have compiled a list of the best Glamping with hot tubs Yorkshire available. So if you are looking for Glamping with a hot tub in Yorkshire, check out:
Best Glamping with Hot Tubs Yorkshire
Copy House Hideaway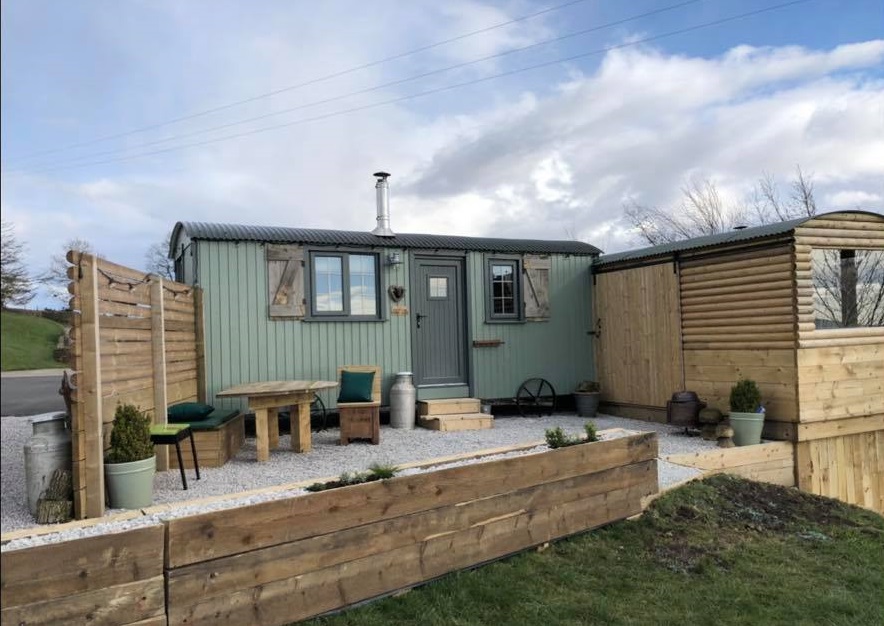 Barnoldswick, Earby, BB18 6LF
At the Copy House Hideaway there ate two beautifully appointed shepherd's huts with panoramic views along the Yorkshire and Lancashire border.
Each hut has an adjoining log cabin with an indoor seating area and eco hot tub. Inside you'll find a Krups coffee machine and extremely stylish furnishings.
For more information visit Copy House Hideaway
Little Otchan Glamping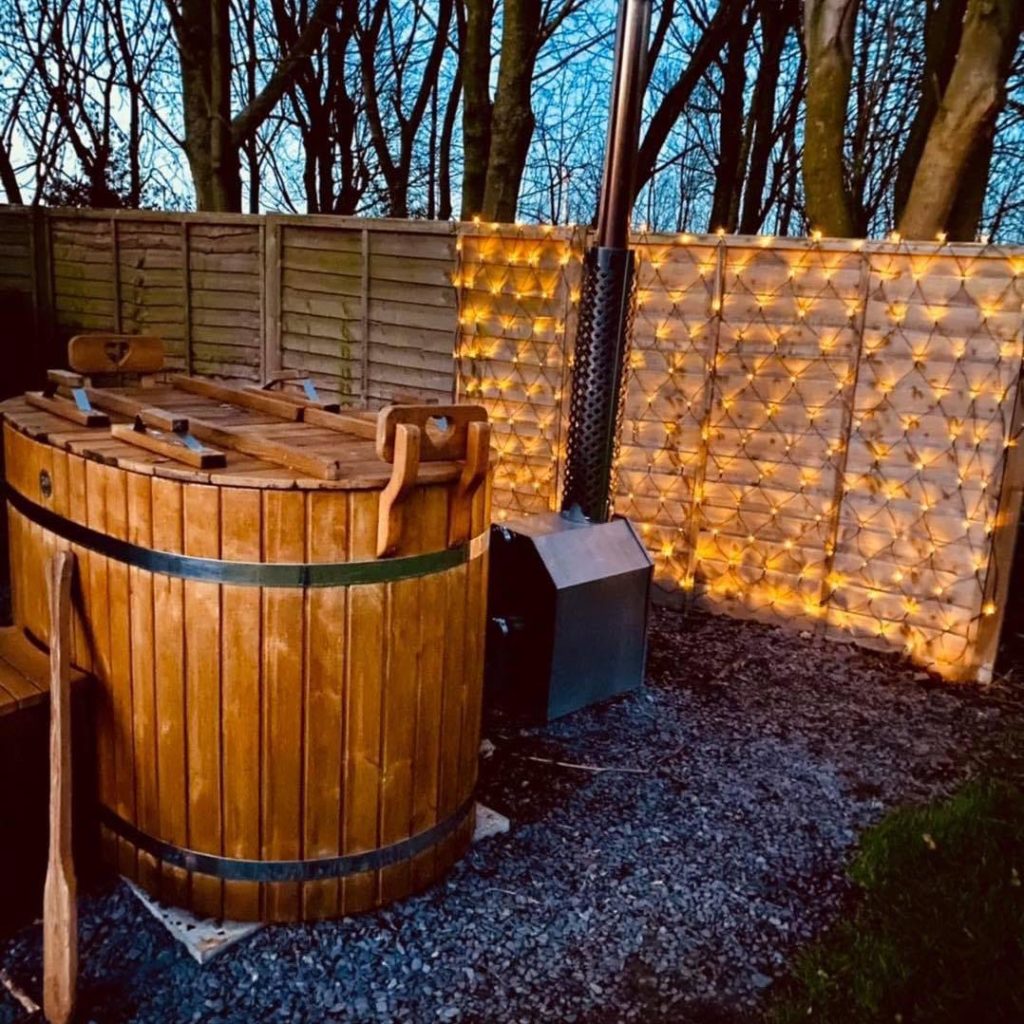 Four Lane end, Hall Farm, Halsham, Hull HU12 0BU
Nestled in the unspoilt East Yorkshire countryside is a Shepherd Hut and luxury Bell Tents.The Sheherds hut is completely on its own and private, set between the trees on the water's edge.
The hut also has its very wood fired hot tub and its own fire pit for those who want to cook on the wild side or just enjoy an open fire whilst gazing at the stars.
For more information visit Little Otchan Glamping
Catgill Farm Glamping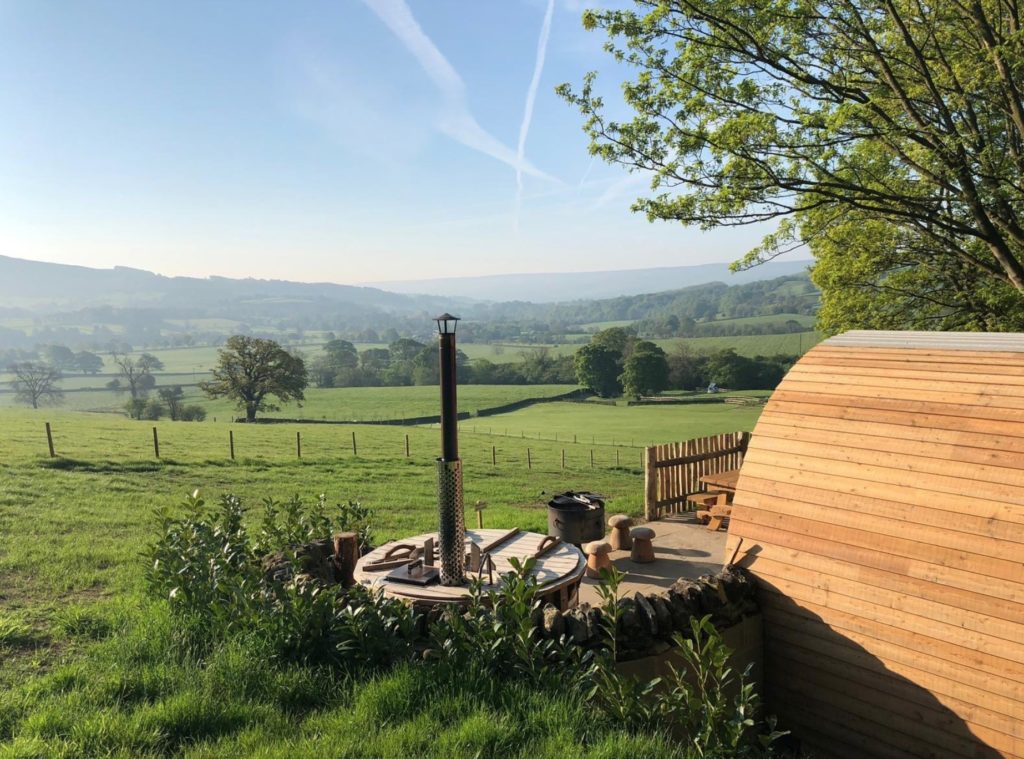 Catgill Farm, Bolton Abbey, North Yorkshire, BD23 6HA
Relax in your private hot tub, gazing at the amazing panoramic views of North Yorkshire. When the sun sets you will be surrounded by the beauty of the dark, star lit skies.
Each of the luxury timber glamping pods and bell tents has its own log-fired hot tub located outside on a private patio. The heat is generated through a log burner for an extremely authentic and eco friendly experience.
For more information visit Catgill Farm Glamping
Humble Bee Farm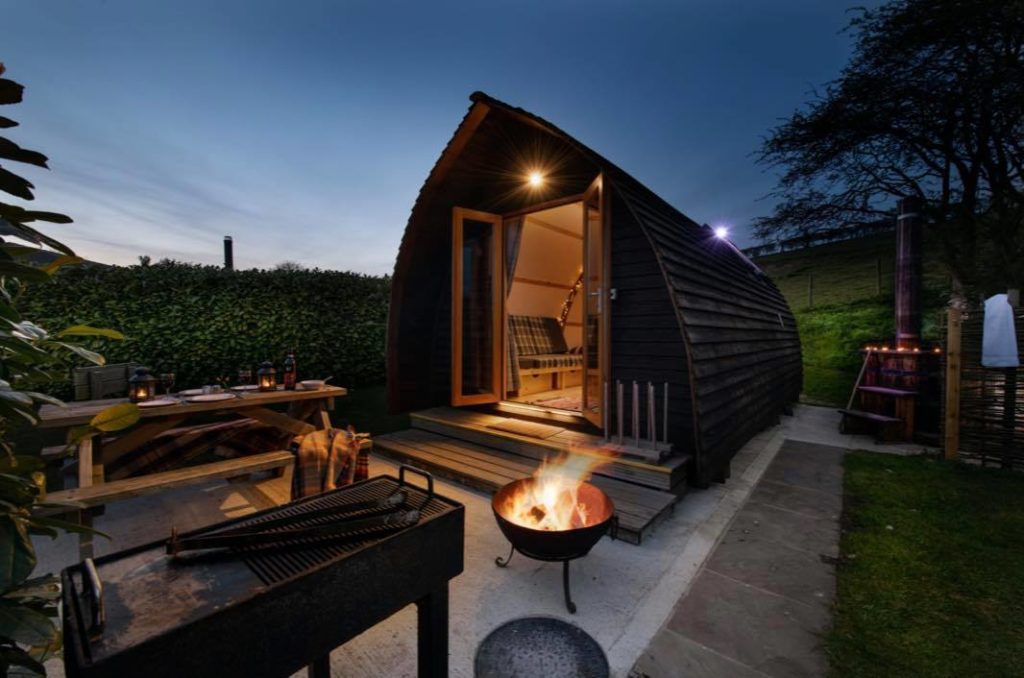 Flixton, Scarborough YO11 3UJ
The luxury WigWam timber lodges each have a private electric hot tub, are fully heated and insulated, perfect for a year-round staycation. They stay true to their farming roots with our farm animals, happy hens and nature rambles.
Relax, recharge and unwind in a safe, quiet environment! The lodges sleep 6 and are dog friendly, with fully equipped kitchen and ensuite, electric hot tub, and private patio,
For more information visit Humble Bee Farm
Wold Meadow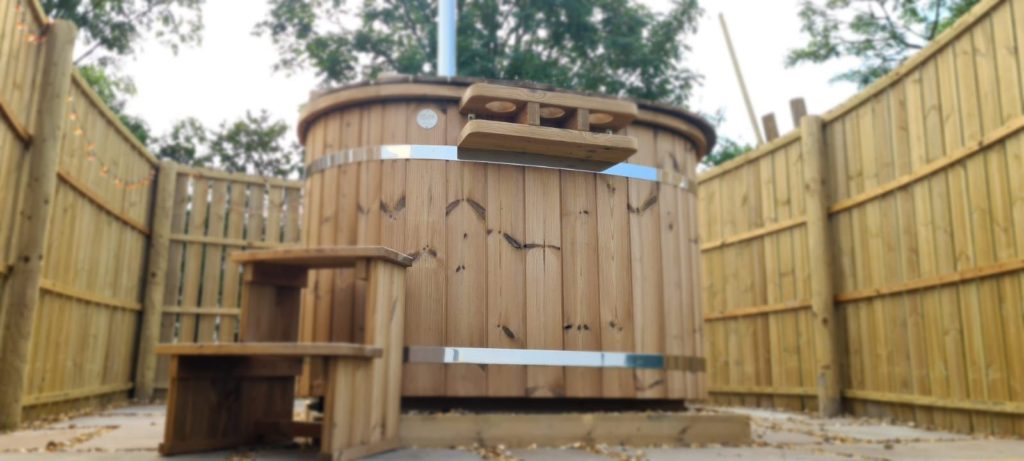 Rainsburgh Ln, Wold Newton, Driffield YO25 3HL
Wold Meadow Glamping is located in a peaceful corner of the stunning Yorkshire Wolds, close to the Yorkshire Coast. The site includes 6 circular Yurts with outdoor hot tubs and log burners.
Wold Meadow also features Bertie, a stylish pop-up VW Campervan, with views across open fields. Wold Meadow is situated on the edge of Wold Newton village, between the seaside resorts of Filey and Bridlington.
For more information visit Wold Meadow
The Shepherd's Retreat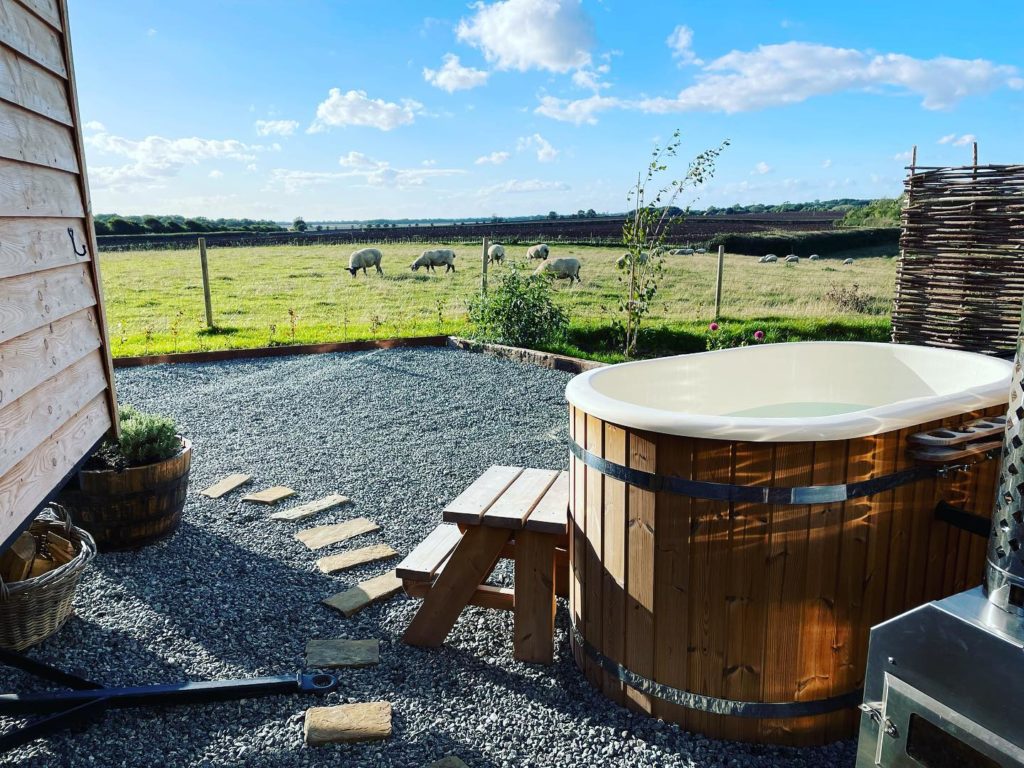 Highfields Farm, Ings Ln, Patrington, Hull HU12 0ND
The Shepherds Retreat is a luxury shepherds hut located on a family farm at the heart of the quaint village of Patrington, East Yorkshire. Set within a 13 acre pasture surrounded by beautiful countryside and the resident flock of sheep.
The hut is a self contained hideaway, perfect for couples or small families with up to two under 12's. It comprises a fully fitted kitchen, dining/lounge with log burner, bathroom, bedroom and a wood fired hot tub.
Fore more information visit The Shepherd's Retreat
Camp Katur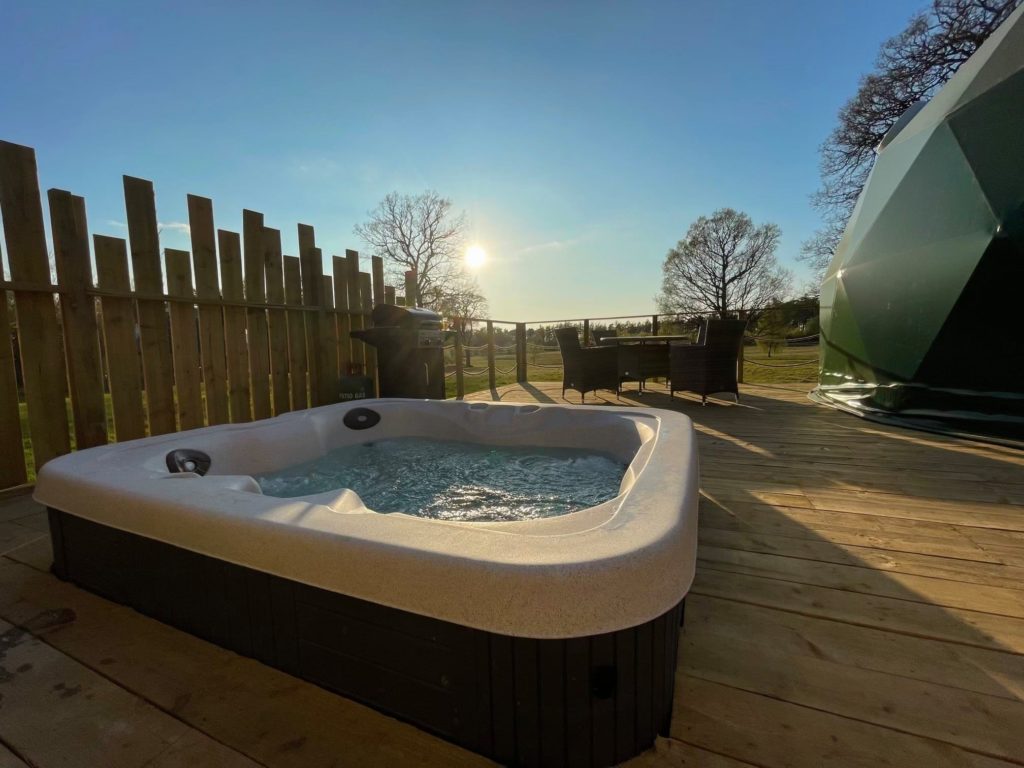 The Camp Hill Estate, Kirklington, Bedale DL8 2LS
Camp Kátur is a Glamping experience in North Yorkshire like no other. It has three separate sites, each with its own character and amenities.
The Meadow is off-grid, with a quirky range of accommodation. There are Yurts, Safari tents, Pods and clear Unidomes. Each Premium Geodome will sleep 4 people and is a stargazer, with clear view panels in the roof, each with a hot tub and seating.
For more information visit Camp Katur
Digby's Hut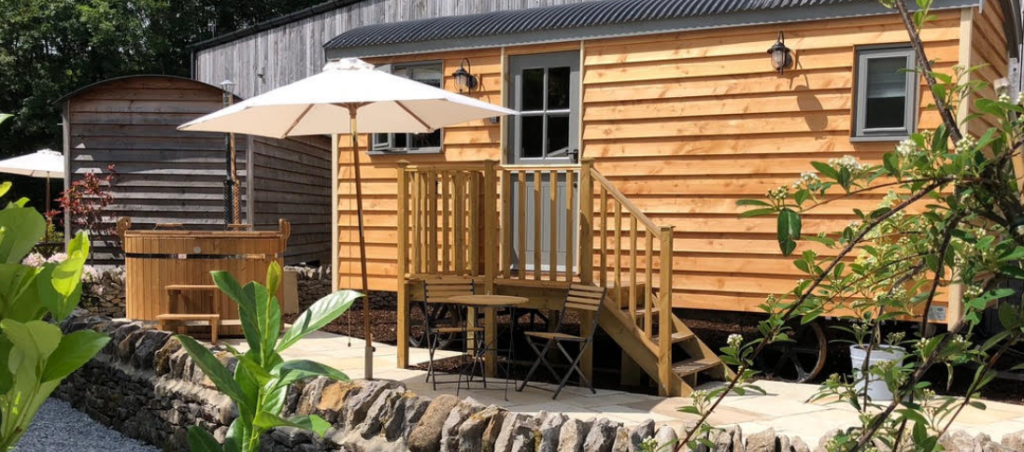 Brosterfield Farm Peak District Holiday Cottages, Foolow, Derbyshire S32 5QB
Digby's Hut sits overlooking the stables and courtyard nestled in the heart of Brosterfield Farm. The hut has an equipped kitchen area fixed double bed and double sofa.
There's a log burning stove and additional heating, a flat screen TV with built in DVD player. Outdoors is a walled garden area with seating and a beautiful, hand-made, Scandinavian, eco, wood fired hot tub.
For more information visit Digby's Hut
Bracken Burrows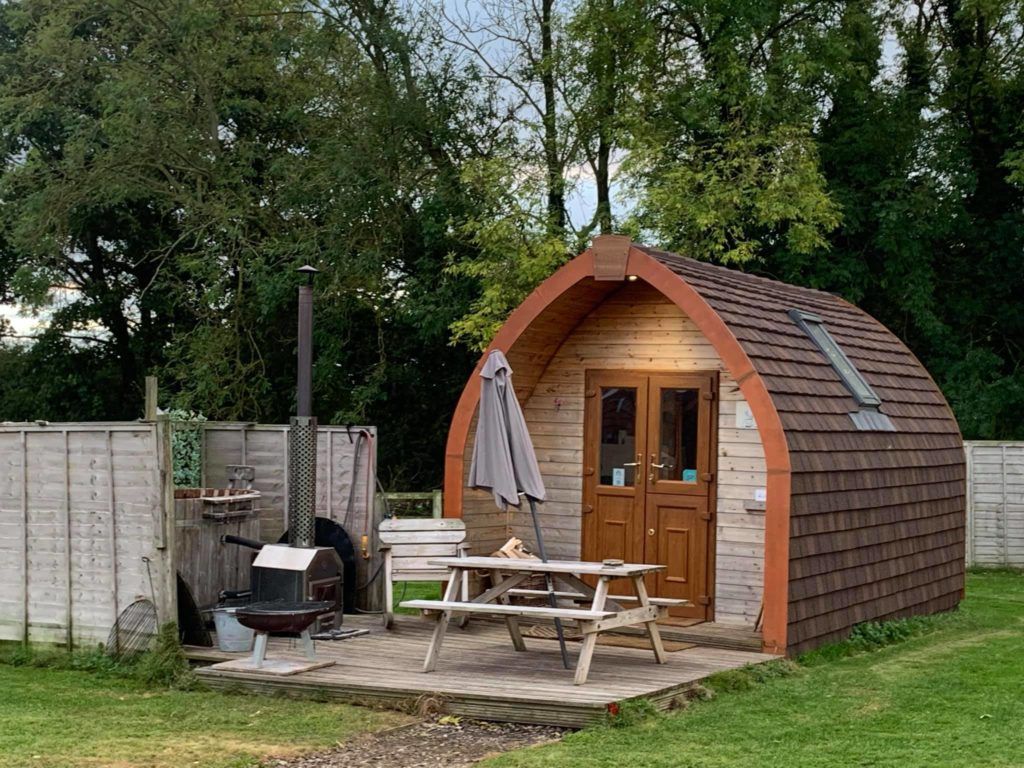 Bracken Cottage, Kilnwick, Driffield YO25 9JQ
Bracken Burrows has beautifully designed glamping pods in the heart of the East Riding of Yorkshire.
Tommy Pod has a double bedroom, small kitchen, a wetroom and toilet and an electric stove. Outside is decking with a fire pit and a naked flame two-person log fired hot tub.
For more information visit Bracken Burrows
High Oaks Grange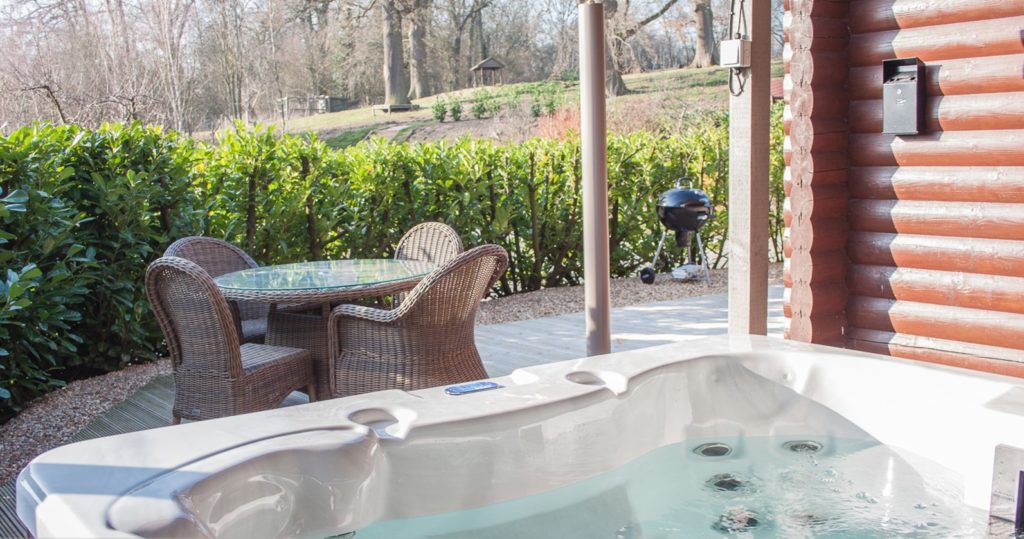 Thornton Rd, Pickering YO18 7HZ
High Oaks Grange have glamping pods in the Vale of Pickering. These pods, sleeping up to 4 people, the eye-catching Woodland Lodges at High Oaks Grange are nestled beside the private woodland on a 60-acre estate.
The perfect choice for a relaxing short break in the North York Moors, these lodges evoke the look of Scandinavian-style log cabins with their open-plan living spaces and cosy countryside charm.
For more information visit High Oaks Grange
Back O' Beyond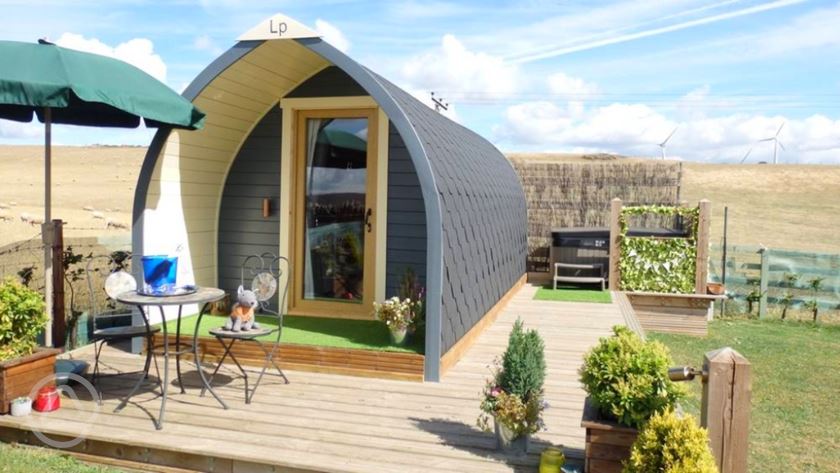 Penistone, Sheffield
Back O Beyond has everything you would need for a relaxing break, away from the hustle and bustle of modern life.The pod is a stylish glamping space that offers all the comforts you could need in the great outdoors.
Inside is a cosy kitchenette area, complete with a microwave, small cooker, fridge and sink so that you can rustle up whatever you fancy. There's a large TV for those moments when you want to relax at base, storage and a lovely en-suite wet room.
After a day sightseeing and discovering the national park, you can relax in the hot tub.
For more information visit Back O' Beyond
Skipbridge Farm Glamping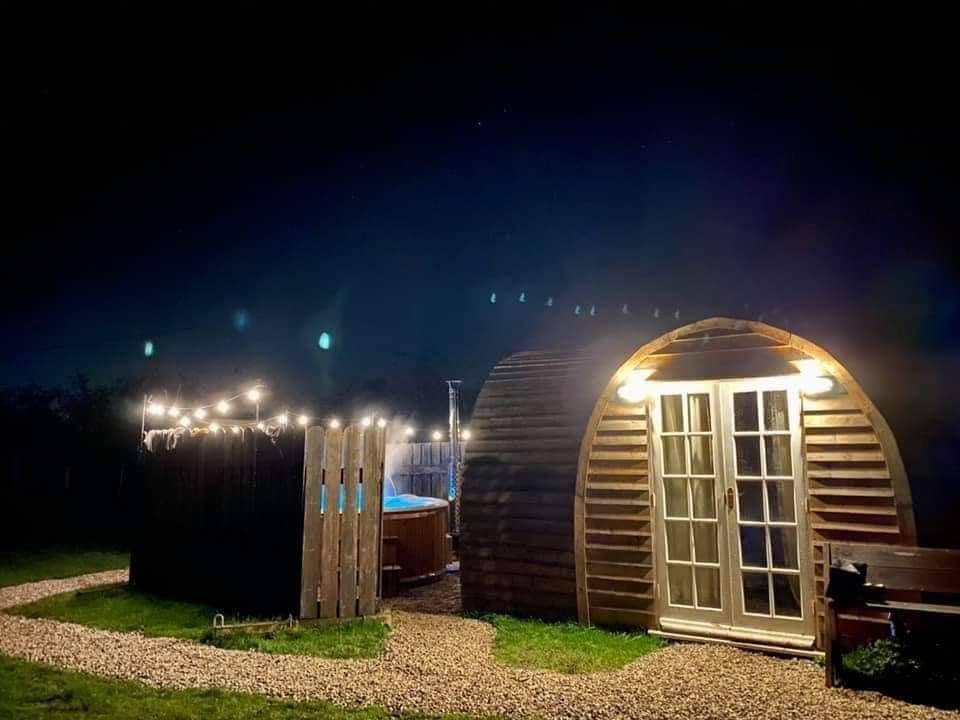 Green Hammerton, York,YO26 8EZ
Skipbridge Farm Glamping provide bell tents and hand made 100% recycled wood Glamping Pods, with rustic and tasteful interiors.The Glamping pod is fitted with a wood burning stove, full electric sockets and lights, a double bed and DAB radio.
This pod has a large wood hot tub spa, which will be pre filled for you to enjoy in your private fenced area directly attached to the pod.
For more information visit Skipbridge Farm Glamping
Waingates Farm Huts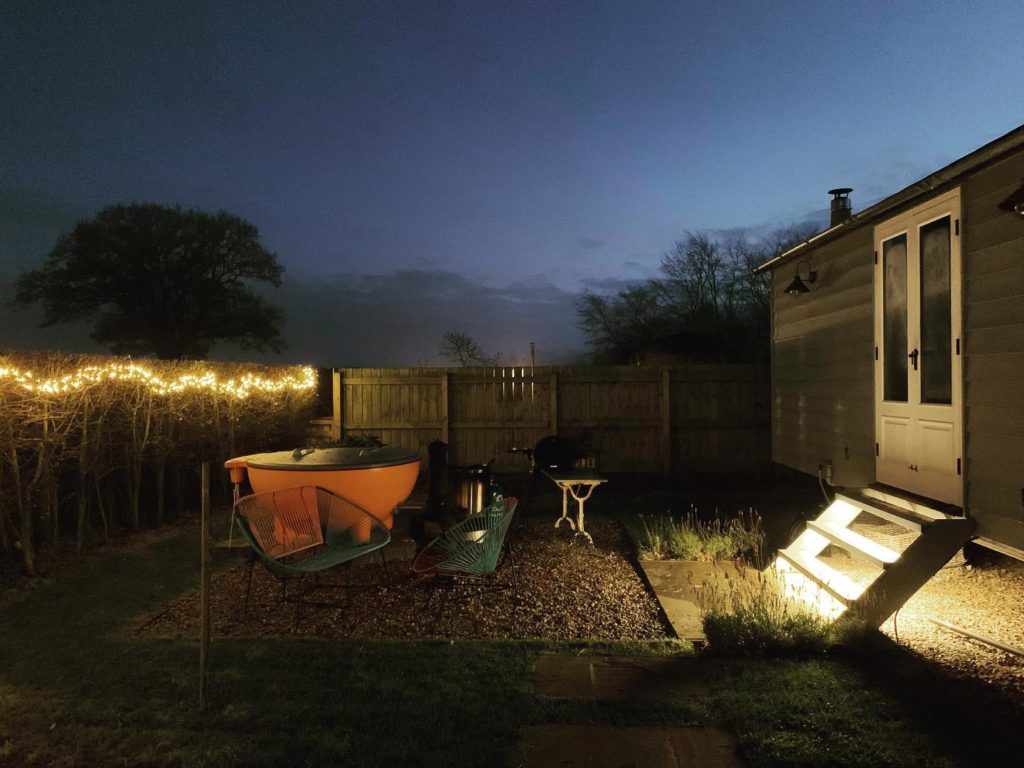 Waingates Farm, York YO51 9NE
The latest Hut at Waingate Farm is a luxurious Nordic Igluhut Tayter Hut. All of their huts have their own wood fired Japanese Ofuru Hot Tub, a Chimenea to keep you warm on chilly evenings and a gas BBQ. There is a fully equipped kitchen and ensuite shower room, as well as a large luxurious Kingsize bed tucked away within its' own alcove.
For more information visit Waingates Farm Huts
Sedgewell Barn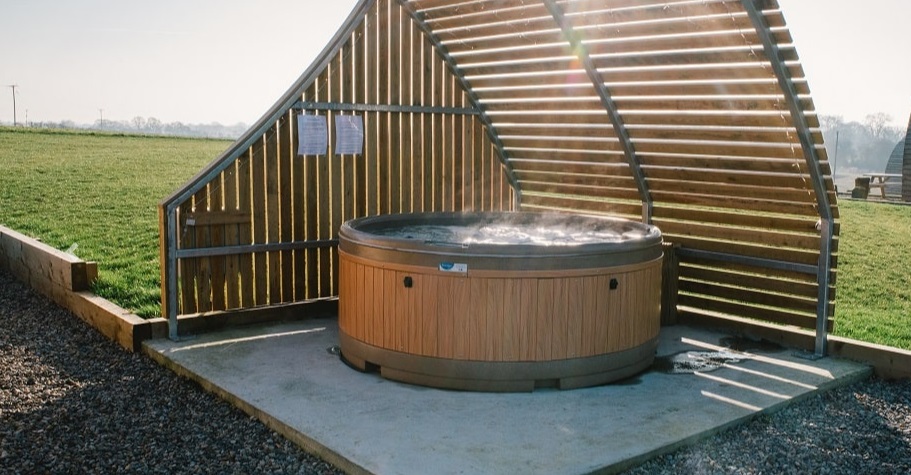 Ainderby Steeple, Northallerton, North Yorkshire DL7 9JY
Wigwam Holidays at Sedgewell Barn have cabins tucked away in a secluded and quiet part of the idyllic farm. Nine of the cabins have their own private hot tubs.
It is close to the Yorkshire Dales and the North York Moors national park, so there are plenty of opportunities to get out into the great outdoors and explore.
For more information visit Sedgewell Barn
The Hideaway at Baxbury Manor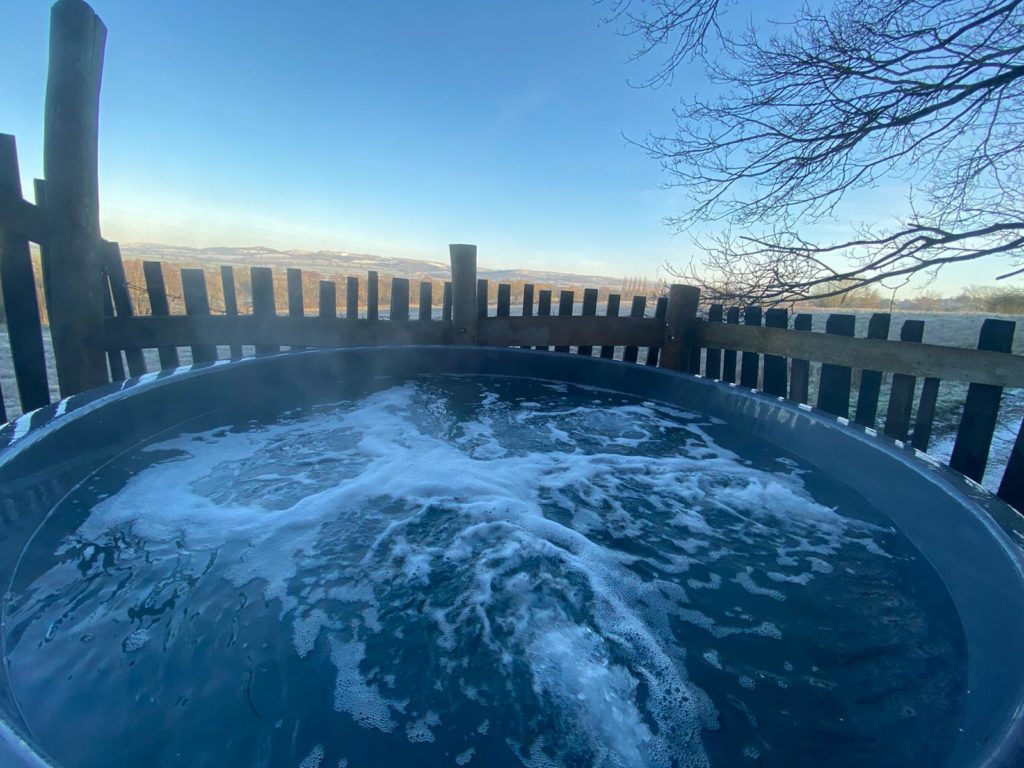 Amplecarr, Husthwaite, York YO61 4PW
Baxbury Manor have glamping Hobbit Houses and Rufus's Roost treehouse. The Hideaway, nestled on the medieval 700 year old Baxby Manor estate, sits on the edge of the village of Husthwaite.
Perched in secluded private woodland, surrounded by panoramic views you'll find Rufus's Roost. Access to Rufus's Roost is through the forest on a raised board-walk!
Between the two turrets is a large veranda complete with a log-fired pizza oven and hot-tub, where you can sit back, soak and take in the views.
For more information visit The Hideaway at Baxbury Manor
Yurtshire Fountains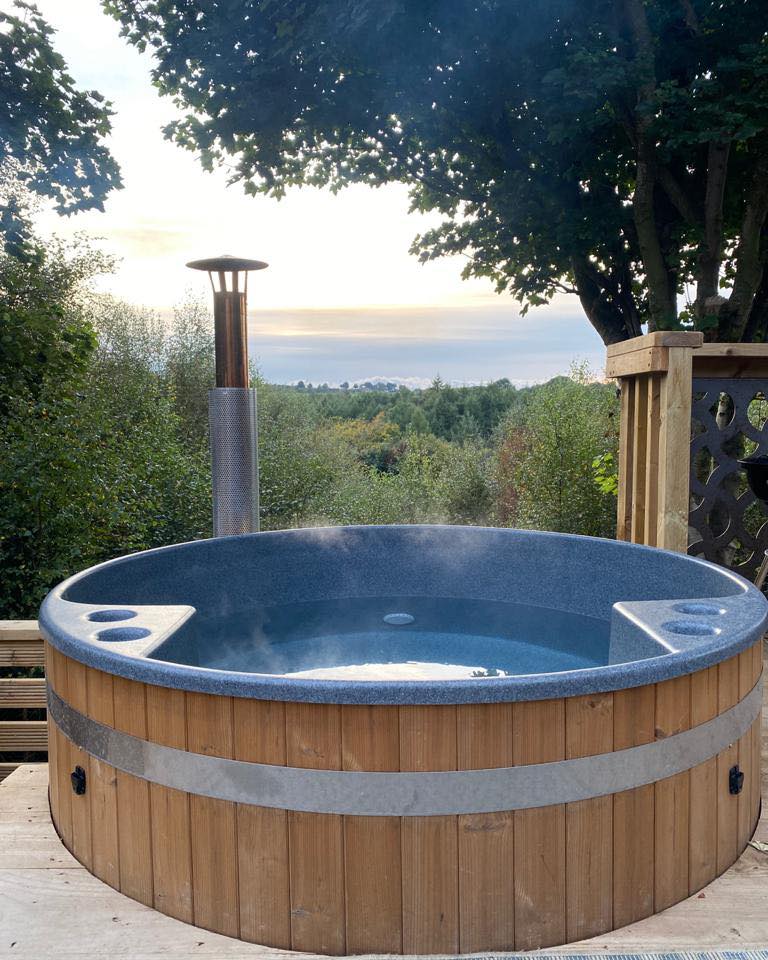 Aldfield, Ripon HG4 3BG
Yurtshire Fountains is located on the edge of the Yorkshire Dales National Park, set amongst the stunning countryside. The six stylish and comfortable yurts each have their own private hot tub and decking area so you can sit back and bathe beneath the stars.
The interiors are cosy and are furnished with a double bed, double and single futon and private kitchen facilities.
Each yurt is self contained with its own private flushing toilet and hot gas powered shower as well as being fully equipped with everything that you should need during your stay.
For more information visit Yurtshire Fountains
Havergarth View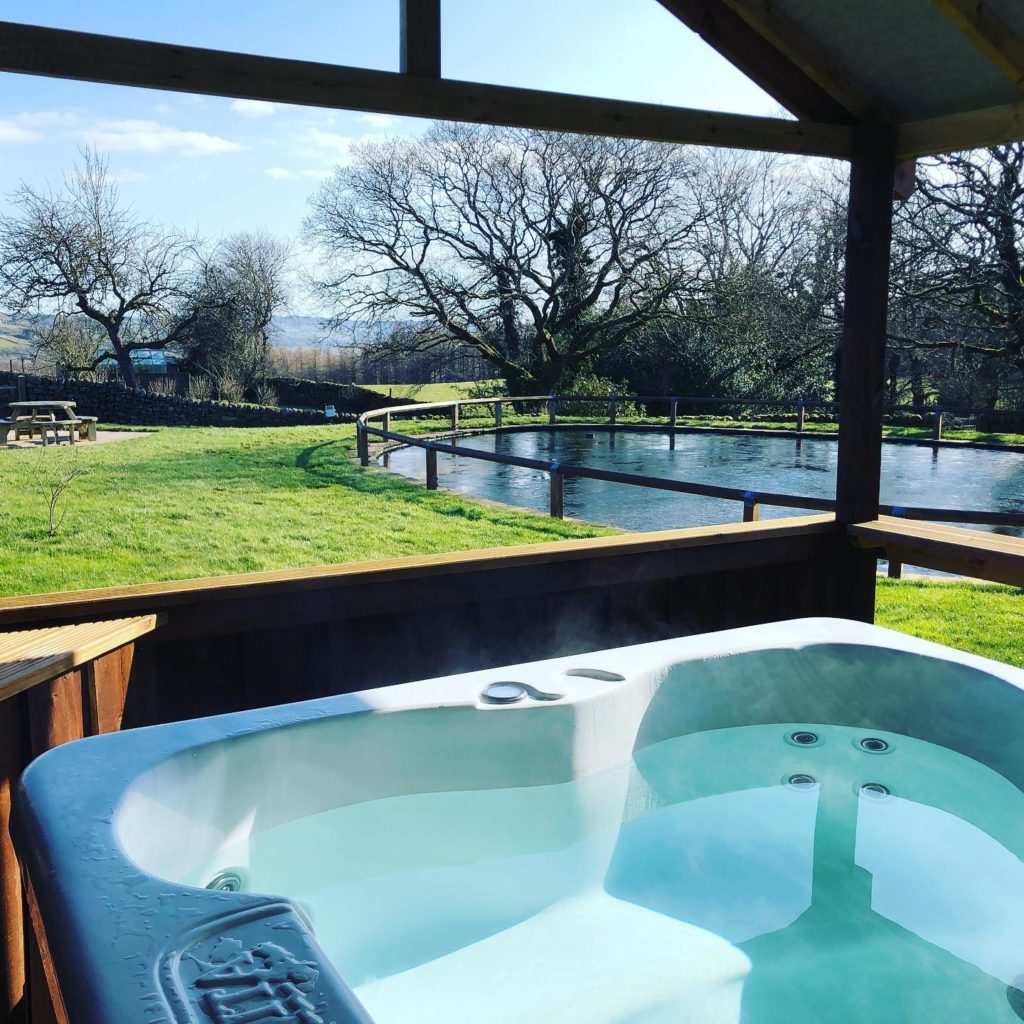 Peat Ln, Harrogate HG3 5JG
You'll have your own private covered Hot Tub at Havergarth View, as well as exclusive shower and toilet facility with underfloor heating.
The pods are insulated and have plush bedding, king-sized beds, hot showers, outdoor seating with fire pits and a BBQ facility.
Choose between Lily Pod with her outdoor decking area overlooking the fish pond and covered Hot Tub or Rose Pod, situated with views over the Nidderdale valley and quaint pond, her natural Yorkshire stone flagged outdoor area and covered Hot Tub
For more information visit Havergarth View
Kingfisher Lakes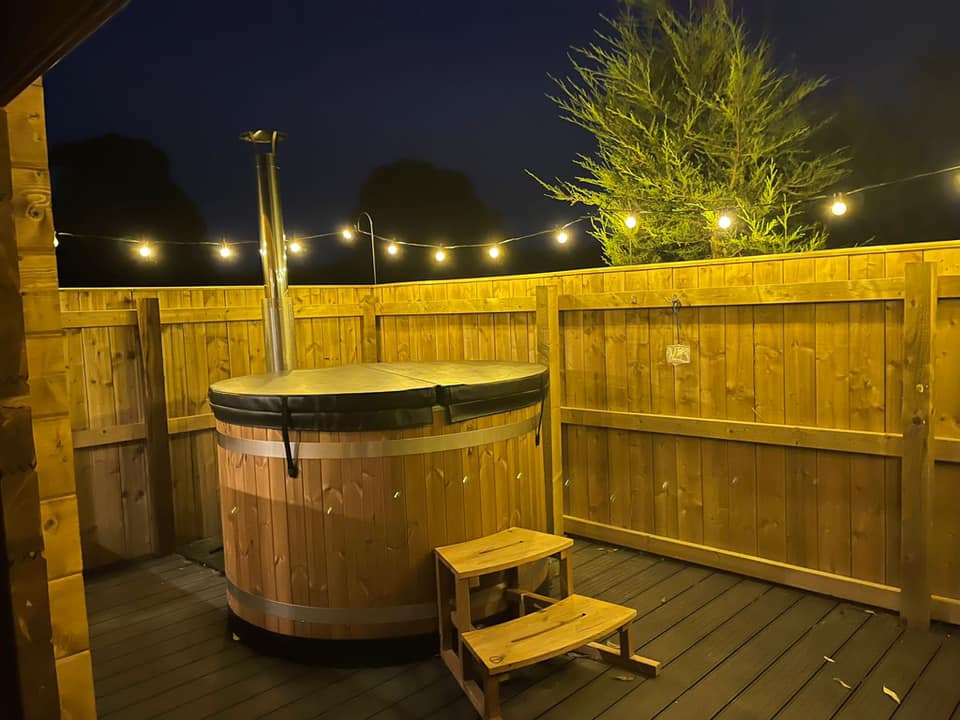 Burshill, Hempholme/Mill Lane, Brandesburton, Driffield YO25 8NA
Sunset Lodge and Willow Lodge both have a king-size bed, en-suite shower room with mini toiletries and a well-equipped little kitchen area.
Spacious balconies over the lake provide you with amazing views over the fields, sunsets and starry nights, which you can gaze at from your fabulous log-fired outdoor soaking tub.
These tubs are magical; with no noisy whirring from electrics or pumps, you just submerge yourselves in the fresh warm water and enjoy.
For more information visit Kingfisher Lakes
West Hale Gate Shepherd's Hut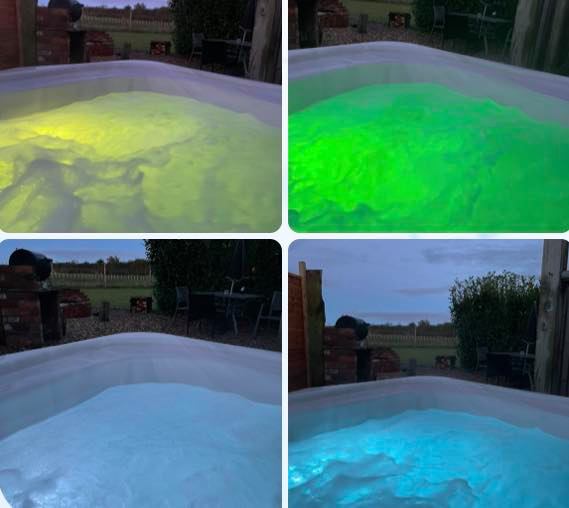 Grindale Rd, Burton Fleming, Driffield YO25 3HR
Combining the peace and quiet of a rural farm setting in the beautiful East Yorkshire countryside, with easy access to the coast and historic towns and cities, West Hale is a great location.
Step outside of your shepherd's hut onto the beautiful handmade decked veranda and unwind in your very own hot tub.
Natural hazel fencing ensures your complete privacy, but does not interfere with the uninterrupted views of the beautiful rolling Yorkshire Wolds.
For more information visit West Hale Gate Shepherd's Hut
The Wensleydale Experience
Coach House, Swinithwaite, Leyburn DL8 4UH
With a sunrise and sunset view enjoyed from dining table or hot tub – luxurious Yurts and a short stroll to Fairhurst's at Berry's Farm Shop and Café, this really is the best way to experience Wensleydale's unique magic.
Each Yurt has its own wood-fired hot tub, gas BBQ, dining table, loo and shower. There are stunning views across our fields, to watch the resident cows and sheep.
For more information visit The Wensleydale Experience
Peaks and Pods
Great Close Lane, Rathmell, Settle BD24 0LS
With sweeping views of the valleys and hills of the surrounding countryside, Peaks and Pods is an idyllic loaction.
Get cosy in a well-equipped cedar-clad pod, with ensuite facilities or a private bathroom. Relax in your own outdoor space with a fire bowl for cooking and gathering round. You can even enjoy your own hot tub or mingle round the pizza oven.
For more information visit Peaks and Pods
Ribblesdale Pods
Town Head Farm BD24 0EX
Ribblesdale Pods is a unique luxury glamping experience in the Yorkshire Dales National Park. There are 6 luxurious glamping pods with hot tubs available this Yorkshire Dales farm.
With each glamping pod having a hot tub as standard, these mega-pods also come with a huge range of amenities.
For more information visit Ribblesdale Pods
Pinewood Park
Racecourse Rd, Scarborough YO12 5TG
Choose from a range of different sized and types of glamping accommodation at Pinewood Park. There are cabons, lodges and tipis and each has their very own private hot tub.
The beauty of hot tubs is they are so inviting – whatever the weather, in daylight or in darkness, you can step in and instantly unwind as the warmth and buoyancy relax your mind.
Every hot tub is cleaned rigorously between bookings, so you can be assured yours will be sparkling when you arrive and ready for action.
For more information visit Pinewood Park
Dacre Lakeside Park
Driffield YO25 8SD
Discover the excitement of waking up in a timber lodge beside the tranquil settings of a well stocked lake.
At Dacre Lakeside Park, the lodges are beautifully designed and come with a range of high quality finishes, catering for every need, and on the large veranda each lodge has it's own hot tub. For you to relax in.
For more information visit Dacre Lakeside Park
Looking for the same kind of accommodation in a different area, check out all the Glamping with Hot Tubs available