Considering staying in a Yurt in Yorkshire but unsure which are the best Yorkshire Yurts to choose to stay in, its hard to know where to begin.
We have compiled a list of the best Yorkshire Yurts available. So if you are looking for a Yurt in Yorkshire, check out:
9 Stunning Yurts Yorkshire Has To Offer
Humble Bee Farm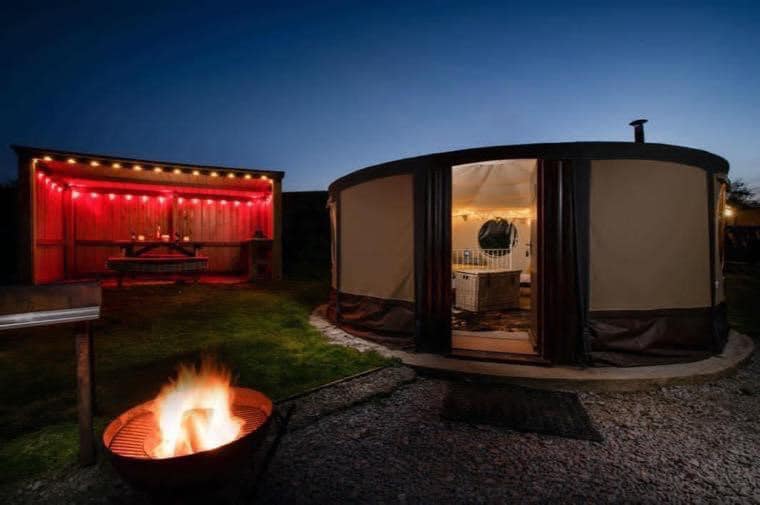 Flixton, Scarborough YO11 3UJ
Humble Bee Farm in Scarborough have four circular 5-metre Nomadic Yurts each with twinkling fairy-lights, a 'stargazer' window, a comfy double bed, two futons, access to a wood-burning stove and outdoor fire pit, canopied picnic area, bbq and preparation area, heating, lighting & electricity.
Outside there is an interactive Nature Trail, which features information about the spectacular wildlife you can see on the farm, from hares to hedgehogs they are also dog-friendly.
For more information visit Humble Bee Farm
Baby Moon Camp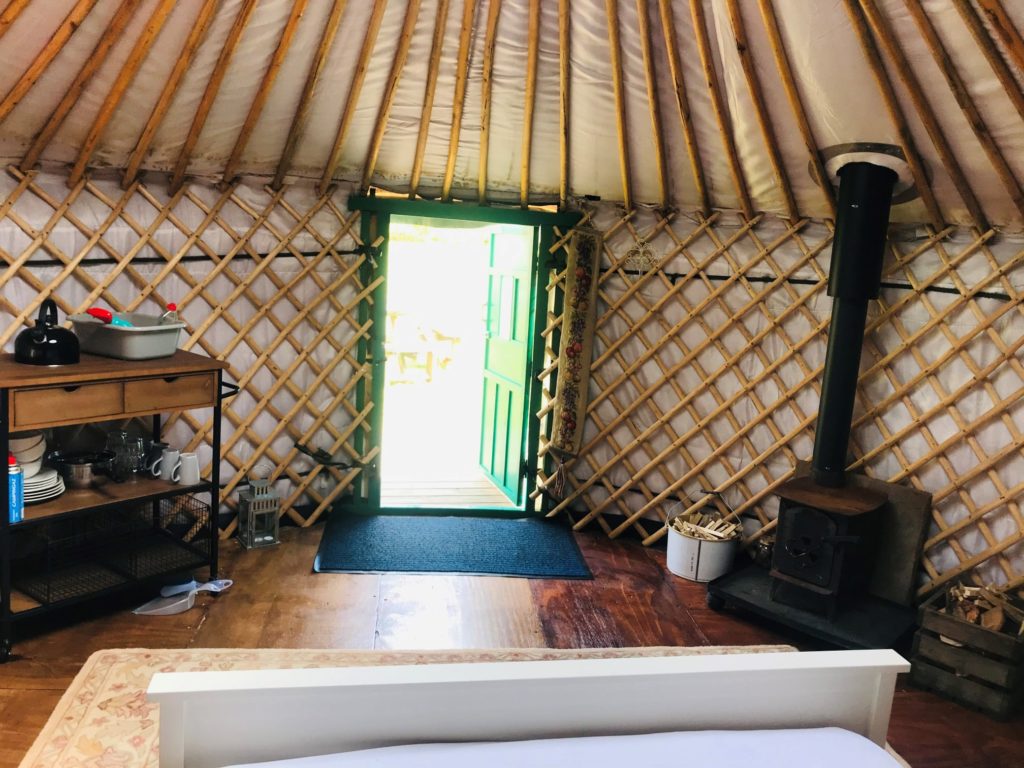 Redcar Rd, Dunsdale, Guisborough TS14 6RH
Sleep deeply in one of the Baby Moon nests which includes a yurt lit by candlelight, myrhh scented and wood fired.
Expect cotton linen, duvets and pillows and a daisy on your pillow.The wooden yurt is like a herbal retreat with a wood burning stove.
There are kitchen facilities, table and chairs and a wood burning stove outside there is decking, a seating area and a fire pit.
On site there nearby water taps and communal toilet/shower blocks.
For more information visit Baby Moon Camp
Cherish Glamping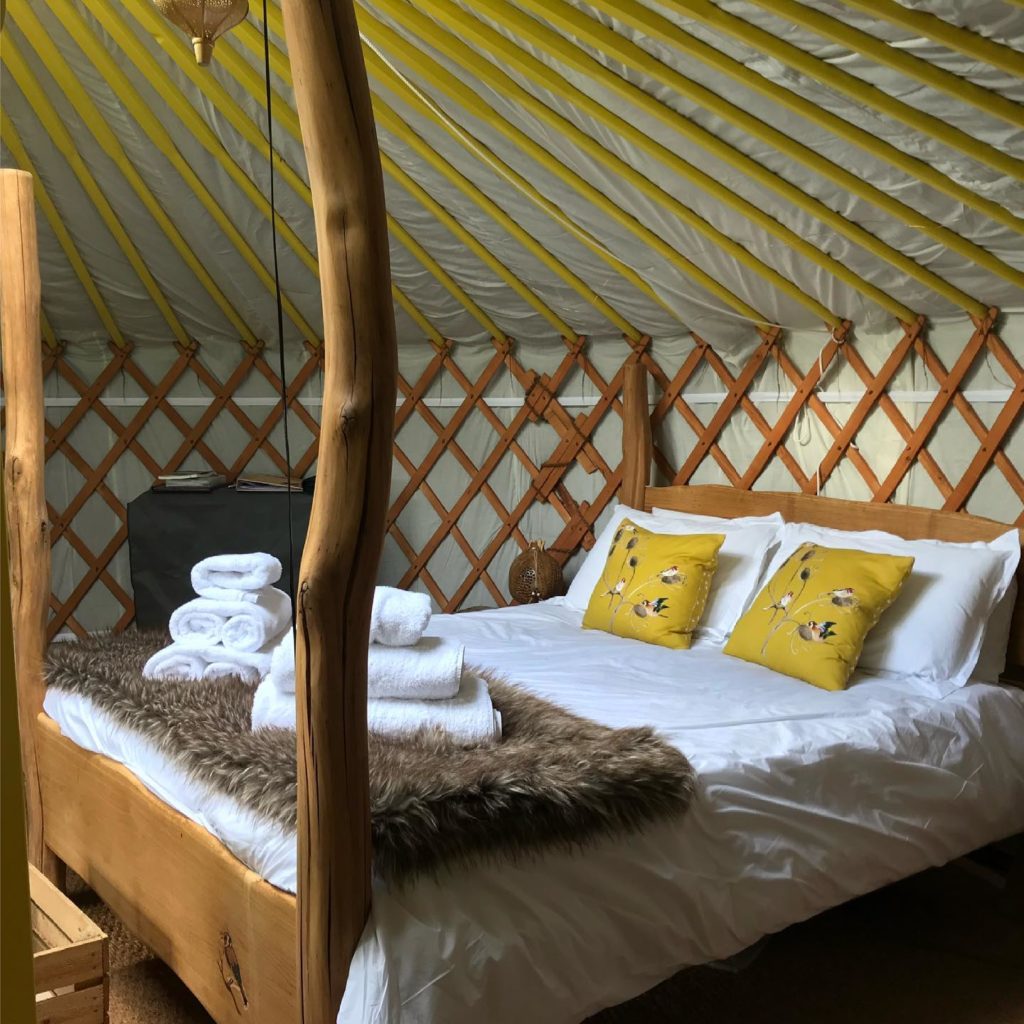 West Shaw Cote Farm, Low Abbotside, Askrigg, DL8 3JH
Set in beautiful Wensleydale, Cherish Glamping offers six yurts.
They boast a lovely washroom and a woodfired LuvTub, this wood-fired hot tub heats in around an hour and half and will comfortably sit 2 adults and 2 children.
All of their yurts have hot tubs and they are warmed ready for check in time. Each yurt has a kingsize four poster bed and their own private wet room with rainfall shower.
The yurts are located on our 27 acre smallholding between the heritage village of Askrigg and the market town of Hawes.
For more information visit Cherish Glamping
Swaledale Yurts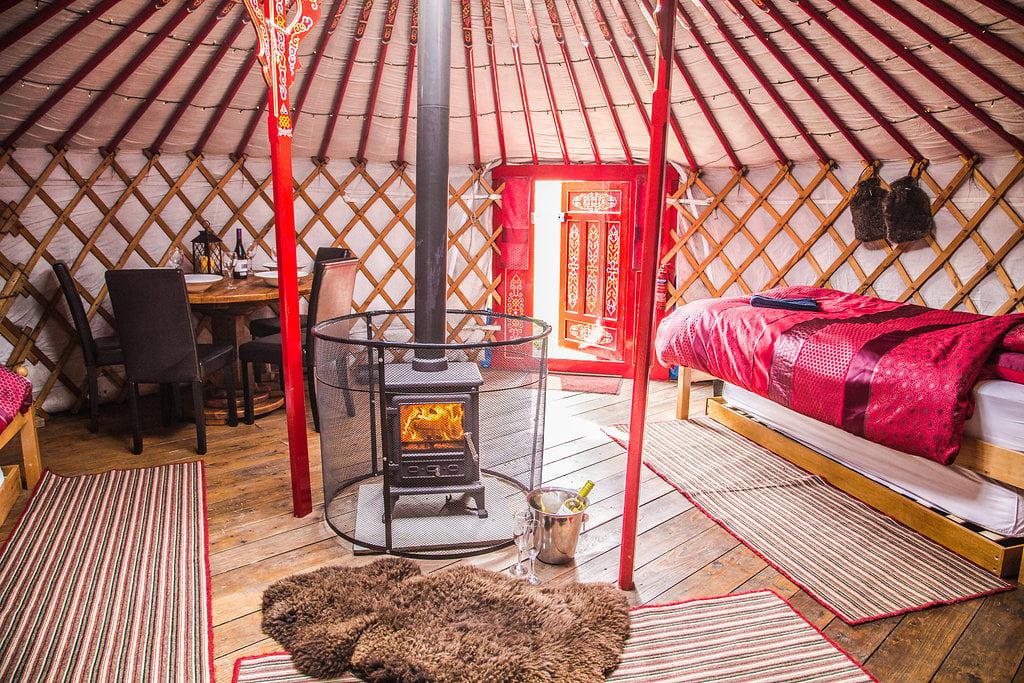 Park House, Keld, North Yorkshire, DL11 6DZ
Swaledale yurts all have private toilet and shower facilities, just a short walk from your yurt.
The five yurts are spacious 19ft tents with locking front doors, wood burning stoves, real beds, sofas and dining area.
They all come with an electric hook up included, along with a mini fridge, lamp, kettle, hairdryer and electric heater.
The yurts comfortably sleeps between 2 and 5 people o  4 single beds and a sofa bed.
For more information visit Swaledale Yurts
Yurtshire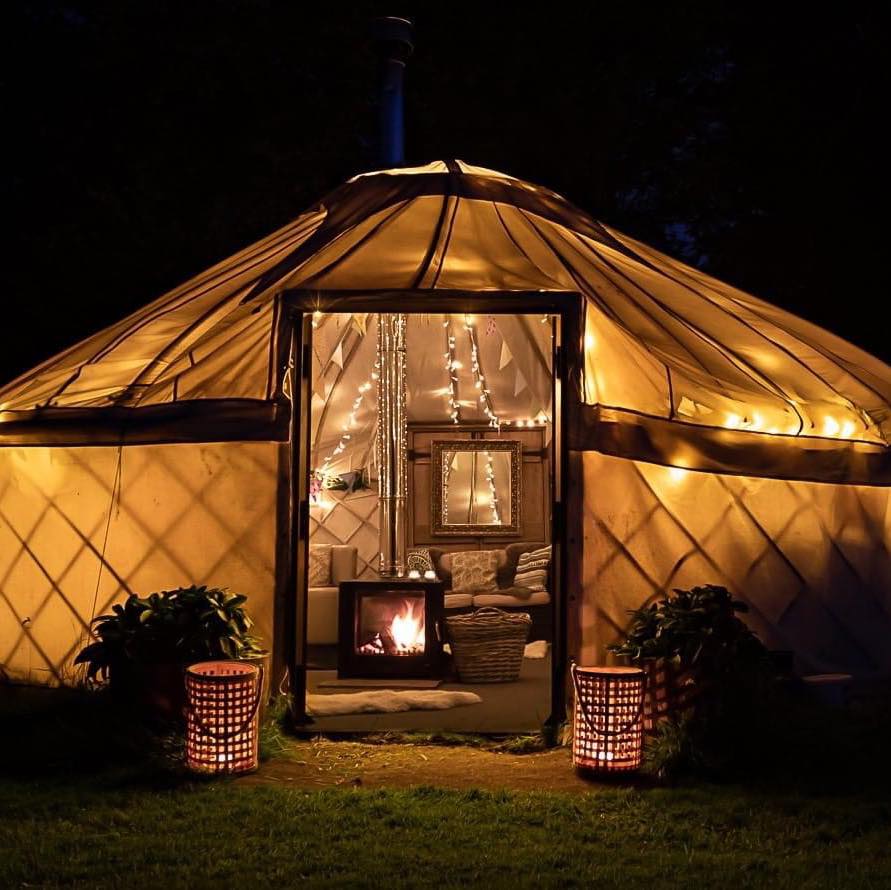 Two locations: Yew Tree House, Aldfield, Ripon, North Yorkshire, HG4 3BE
and Eavestone Lake, Eavestone, Ripon, North Yorkshire, HG4 3HA
These handcrafted yurts all have steam bent ash beams and a unique round top solid oak door.
The chic interiors are both rustic and cosy and are furnished with a double bed and futons and each have their own private kitchen facilities.
Each yurt is self contained with its own flushing toilet and hot shower, as well as being fully equipped with everything that you should need during your stay.
What's more, each yurt has its own private wood-burning hot tub.
Set in stunning landscapes, all our yurts at both sites are well spread out to ensure privacy is paramount.
For more information visit Yurtshire
Acorn Glade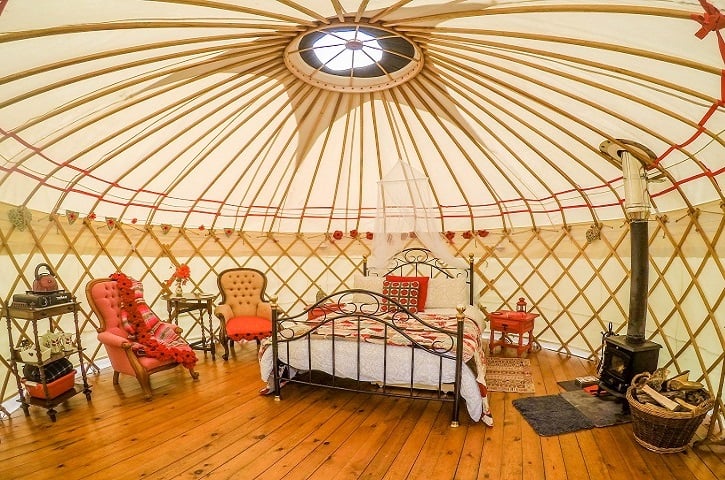 Kidd Ln, Melbourne, York YO42 4QF
Acorn Glade is an award-winning romantic glamping retreat for couples looking for an outdoor short break in Yorkshire.
The site is set within a beautiful lake-side setting offering a yurt and two log cabins and fishing
There are no pets (no dogs) or children under 18 years, plus it is even a wi-fi free zone. 
The newly relocated Poppy Yurt is set in the wild flower meadow overlooking the lake and is approx 16′ diameter and are constructed with a unique wooden frame and covered with canvas.
The yurt has a double bed, internal and external seating, tea & coffee making facilities, solar lighting and solar fairy lights activated in the evening to light your accommodation and USB charging point.
There are no toilets in the yurt, however the amenity block (called "The Chicken Shed") is less than 50m from each unit.
For more information visit Acorn Glade
Masons Campsite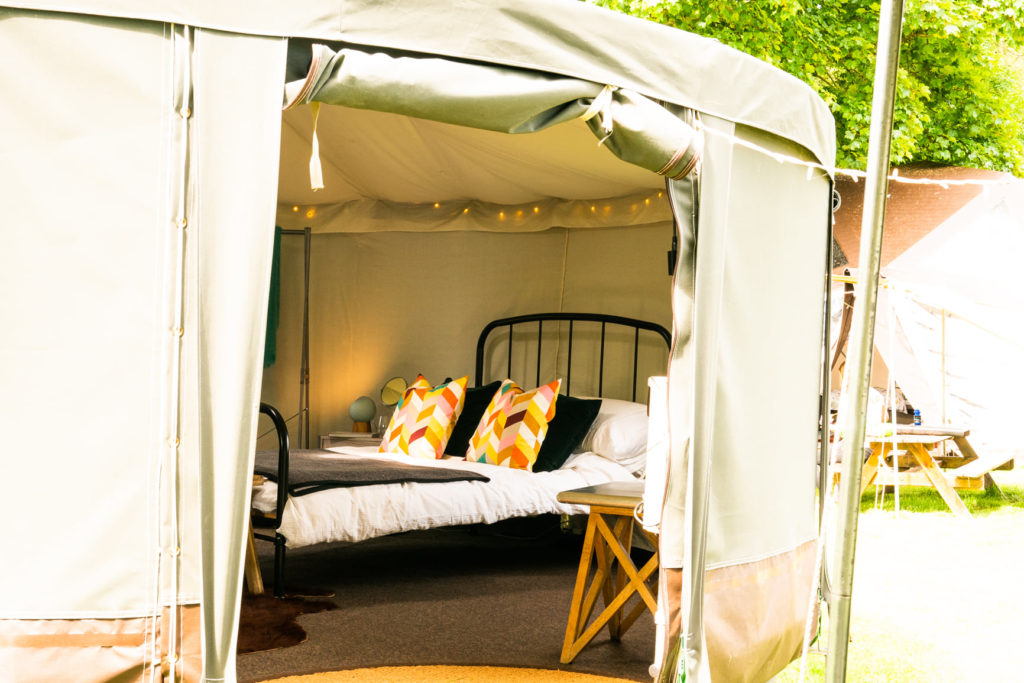 Ainhams House, Appletreewick, Skipton BD23 6DD
With charming fairy lights, warm blankets, separate cooking areas and toasty log burners, our yurts at Masons Campsite allow you to relax and enjoy the dales.
All accommodation is dog friendly, and they provide a sleeping mat, cage and treats for your dog.
The River View Luxury Yurts overlook the River Wharfe and are carpeted throughout. Fluffy rugs, cushions, and a wrought-iron bed give these yurts an extra touch of glamping luxury for couples or families of four.
For more information visit Masons Campsite
Swallowtails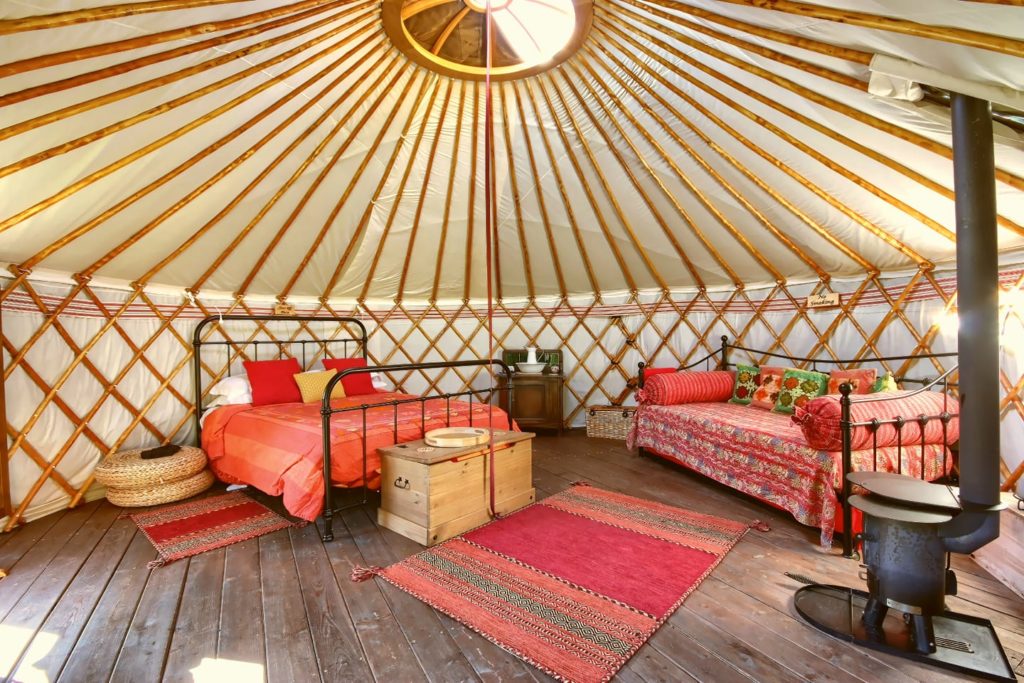 Wayside, Goslipgate, Pickering YO18 8EQ
Boutique Yurts (en suite) and 'Lotus Belle' tents are set in an idyllic location within walking distance of pretty town of Pickering.
The yurts are situated on the sunny side of the glade and are extremely spacious for a family or group stay.
There is a 22ft super sized yurt called Stargazer, and as its name suggests has a large skylight for you to see the night sky through.
It also has a king size bed and four single beds in the form of a daybeds and pull out single trundle beds. There are 4 luxury 18ft yurts which sleep 4 people.
All yurts have proper wooden framed doors and the 18ft yurts also unusually have large wooden windows with shutters too. Each yurt has a handy en suite toilet shed.
For more information visit Swallowtails
Upwood Holiday Park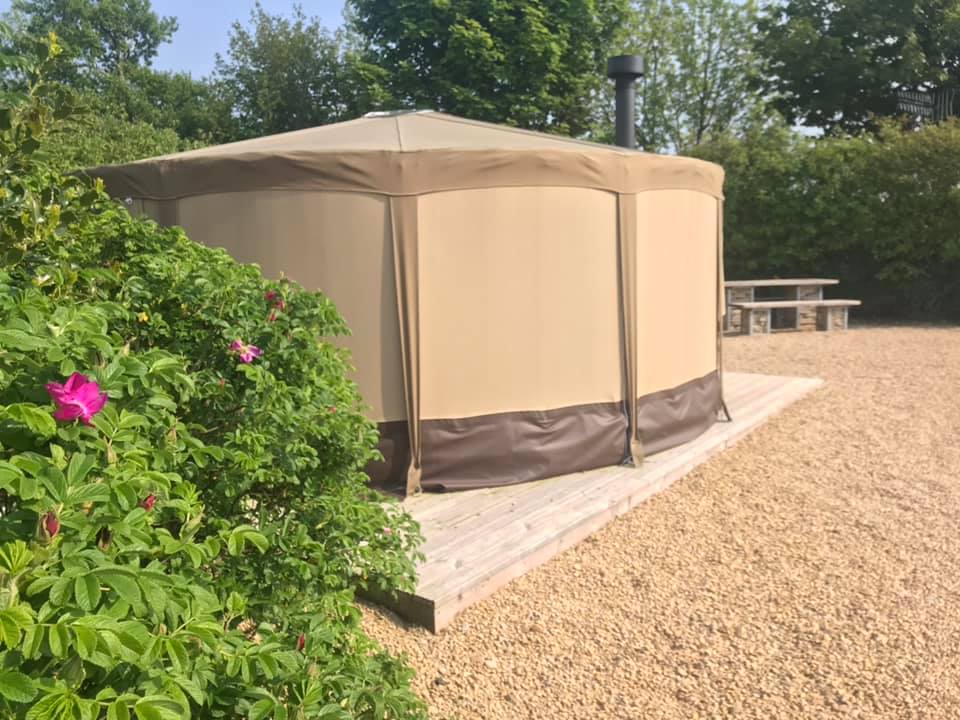 Black Moor Rd, Oxenhope, Keighley BD22 9SS
From caravans to tents, glamping to park homes, Upwood have a wide variety of accommodation, no matter what you're looking for.
Inside the yurt you will find a light and spacious open area containing a double bed, a sofa bed, a table with 4 chairs, a lamp, a TV, a microwave, a fridge, a kettle and to keep you toasty and warm there is a log burner and electric heater. They are also dog-friendly.
Prices for the Mongolian Yurts start from £120 for a 3-4 night midweek break or £140 for a 2-3 night weekend stay.
For more information visit Upwood Holiday Park
Looking for the same kind of accommodation in a different area, check out all the Yurts available