Considering staying in a Glamping Pod in York (often referred to as a Camping Pod York) but unsure which are the best York glamping pods or York Camping Pods to choose to stay, its hard to know where to begin.
We have compiled a list of the best York Glamping Pods available. So if you are looking for glamping pods in York, check out:
8 Stunning Glamping Pods York Has To Offer
Wigwam Holidays Ball Hall Farm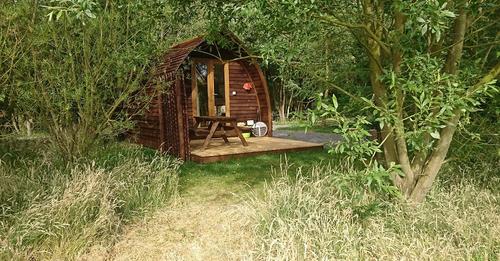 Ball Hall Farm Ballhall Ln, Storwood, York YO42 4TD
Wigwam Holidays Ball Hall Farm invites you to the heart of Yorkshire, to relax and unwind within an idyllic woodland setting.
Your luxury Cabin accommodation tucked away, surrounded only by rolling hills and wandering wildlife.
All the glamping pods enjoy a view of a lake, brimming with life which you can observe whilst kicking back on your outdoor decking enjoying a glass of something lovely. 
Wigwam Holidays offer a superb location for exploring all the treasures that York and its surrounding towns and villages have to offer.
There are nine deluxe en suite cabins available, which sleep two adults and two children. There are also three fully accessible cabins available, which sleep two adults and three children and are suitable for wheelchairs, and bigger families requiring more space.
The pods are well equipped and designed with comfort in mind, and outside there is a BBQ and a firepit.
For more information visit Wigwam Holidays Ball Hall Farm
The Little Hide Grown Up Glamping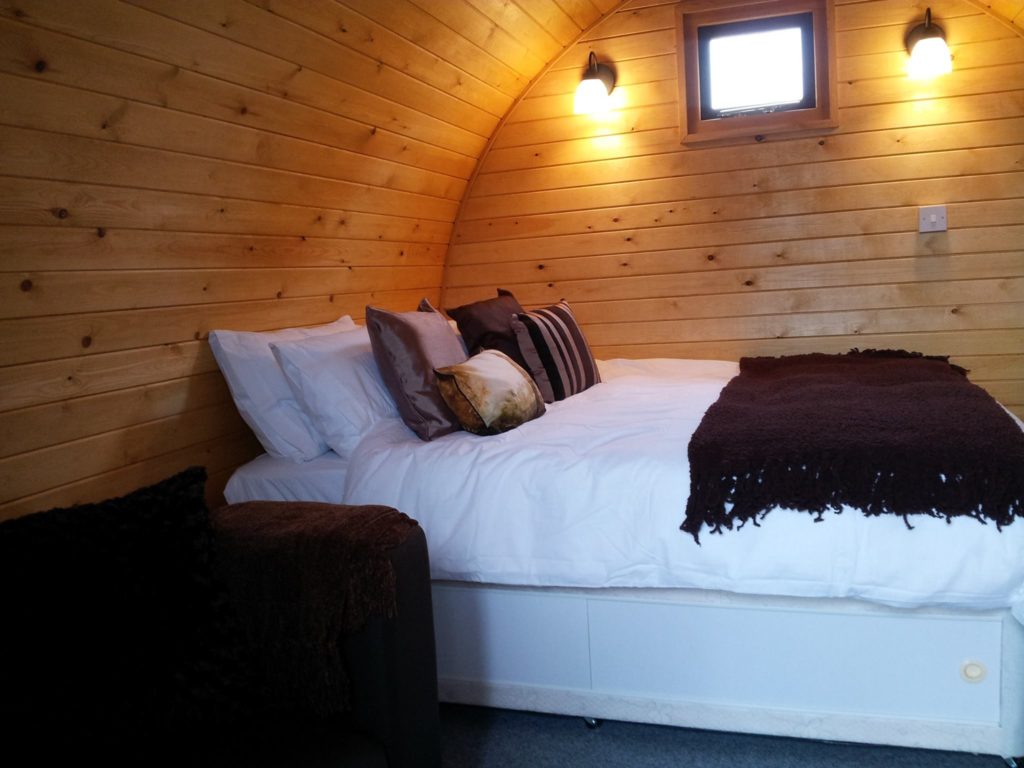 The Little Hide, Willow House Caravan Park, Wiggington Road, York, YO32 2RH
The Little Hide "Grown-up" Glamping Site, is, as the name suggests, for adults only. It is the ideal destination to get away from the stresses, strains and noise of modern life, to re charge your batteries whilst connecting with nature.
However, you are still only a very short journey from York city where you will find masses of culture, history as well as super shopping and excellent restaurants.
The glamping pods are completely unique, designed and built by the proprietors and finished to a particularly good standard. There are eight pods in all, all designed to sleep two.
There is a combination of "standard" and "posh dog" pods, identified by a slight difference in the furnishings and facilities. The bathroom facilities are a short walk from the pods, where you will find two toilet and shower blocks.
There are also laundry facilities on site and a café, offering delicious breakfasts and lunches created using the finest Yorkshire produce.
For more information visit The Little Hide Grown Up Glamping
Wagtail Park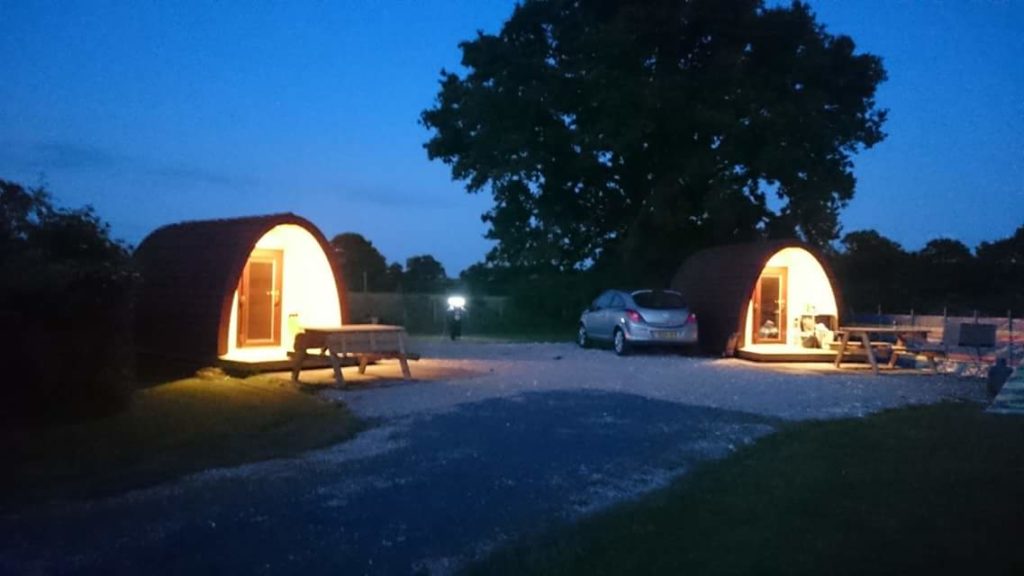 North Lane, Huntington, York, YO32 9SU
Wagtail Park is very conveniently situated just 1 mile from the major shopping outlet Monks Cross, just outside of York, yet promises peace and tranquilly for your glamping stay.
The glamping pods are not furnished, and you are advised to bring all the usual camping gear to set up your pod with your own equipment.
The pods at Wagtail Park are fully insulated with lighting and heating to ensure your comfort whatever the weather.
The pods also have electric sockets, blinds and outside you will find a decking area and picnic bench. The communal shower blocks are well equipped and even feature under floor heating.
Dogs are also invited and its worth noting for any keen fisherman, that there is a well stocked lake.
For further information contact Wagtail Park York
York Holiday and Cycle Stop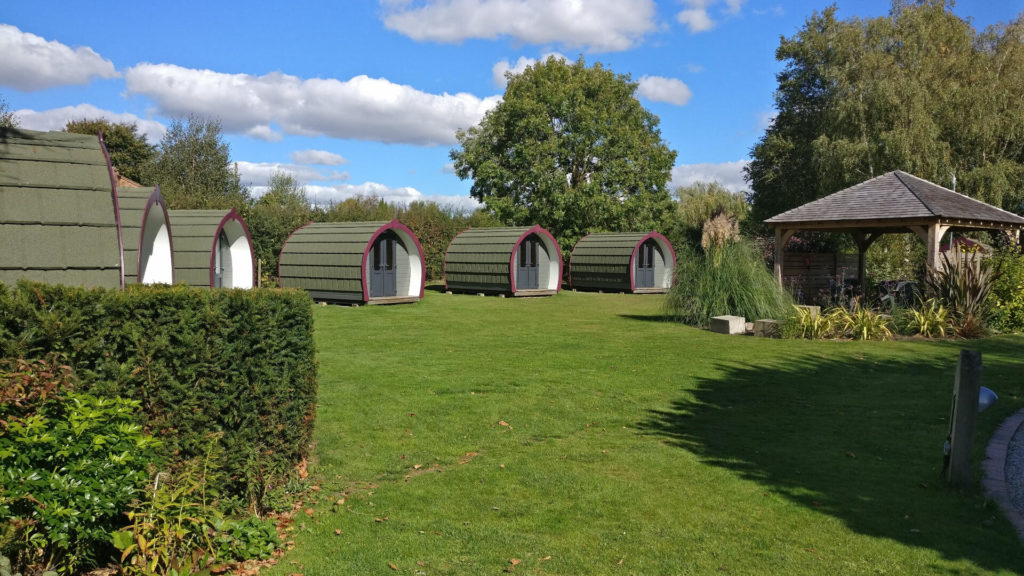 Holtby Ln, Holtby, York YO19 5UD
Beautifully and conveniently located just out the stunning, historical city of York, The York Holiday and Cycle Stop invites you to get away from it all and stay in one of their charming glamping pods.
Surrounded by idyllic, unspoilt countryside, these pods are the ideal destination for those wanting to unwind but also be near enough the city to enjoy the sites and attractions.
The site is especially catered towards cyclists wanting a base after a day of exploring the variety of cycle routes nearby.
The pods themselves feature a heating system, full insulation, wifi access and sleep two adults comfortably.
The 'Eco Pod' beds can be used either as two singles or joined together as a double, whereas the 'Eco Pod Plus' offer a double bed with luxurious bedding and towels.
The 'Eco Pod Plus' also offer unique private garden and seating areas.
For further information visit York Holiday and Cycle Stop
Skipbridge Farm Glamping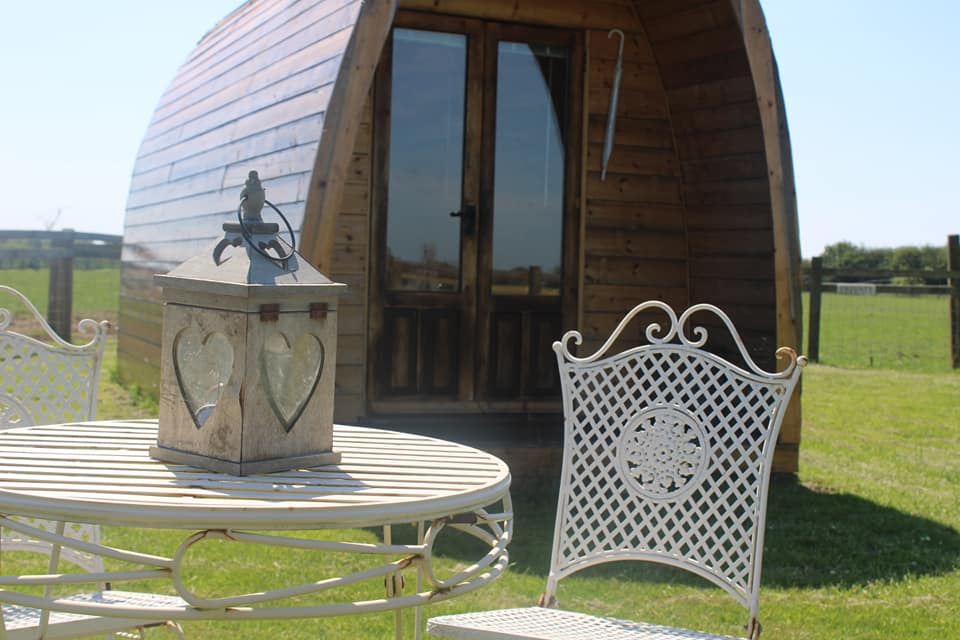 Skipbridge Farm, Green Hammerton, York, YO26 8EZ
Skipbridge Farm glamping truly offers you the ultimate in luxury glamping, in the heart of North Yorkshire.
Relish the fun of camping within the great outdoors, without any stress. The glamping pods are all hand made with 100% recycled wood and enjoy rustic and tasteful interiors. There are three different pods to choose from.
The Standard Pod
The Standard Glamping pod, sleeps two and features a double bed, complete bedding, tea and coffee facilities, on site toilet and shower block, private fire pit and BBQ dab radio and towels provided. Dogs are welcome.
The Delux Pod with fire and bubbling hot tub
This luxurious Glamping pod, designed to sleep 3, features a wood burning stove, electric sockets and lights, plus double and single beds. Also, there is a fold out table with cutlery, wine glasses table matts etc. There are farm animals nearby to visit.
​This pod enjoys a large wood hot tub spa, nestled in the private garden where you can also enjoy a bbq, a fire pit, and a stone sink.
​The Delux Pod with fire and wood fired eco tub
The Delux Pod sleeps two adults and a child. It is fitted with a wood burning stove, electric sockets and a double and single bed. It features a fold out dining table. There are farm animals on the doorstep to offer company and entertainment plus a Scandinavian wood fired hot tub.
For more information visit Skipbridge Farm Glamping
Paradise Lakeside Lodges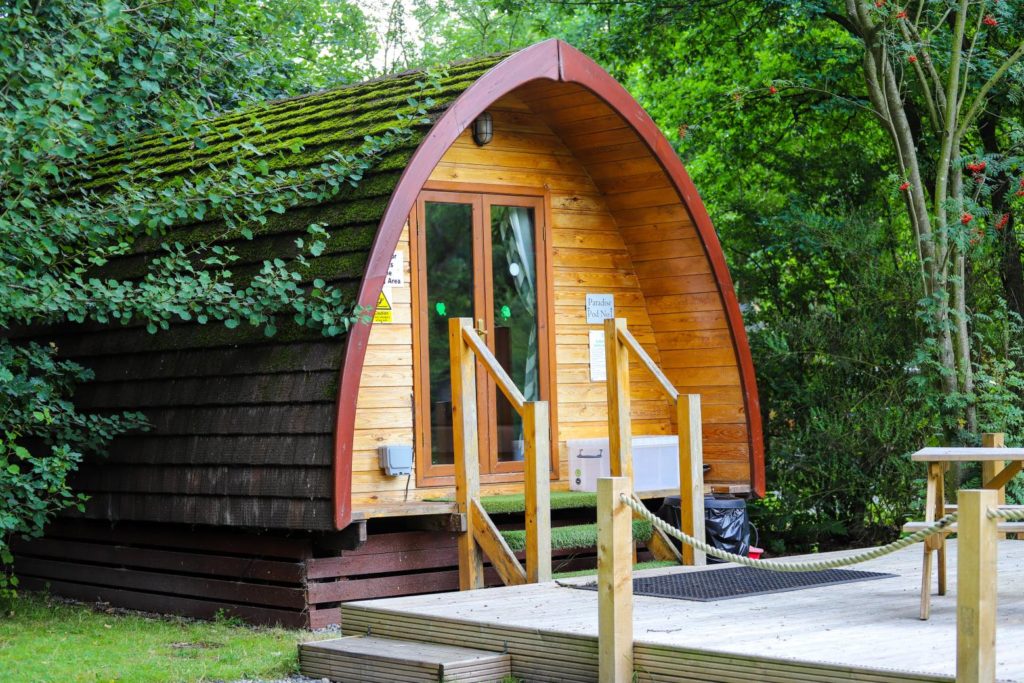 Ball Hall Lane, Storwood, YO42 4TD
At Paradise Lakeside Lodges you can really unwind surrounded by nature, whilst enjoying some of the best coarse fishing in Yorkshire.
Don't worry if fishing isn't your thing though, because there's plenty of walking and cycling to enjoy, or alternatively you can just relax outside your glamping pod with a glass of something delicious.
Paradise Lakeside Lodges is set in a lovely 15-acre park which offers a mixture of grassland, ponds, woody strolls and a wonderful array of wildlife.
The luxury glamping pods are dotted around the lake and are stylishly furnished, feature central heating, double glazing and a hot tub!  They comfortably sleep two adults and two children, and each pod has its own private decking area.
For more information visit Paradise Lakeside Lodges
The Hideaway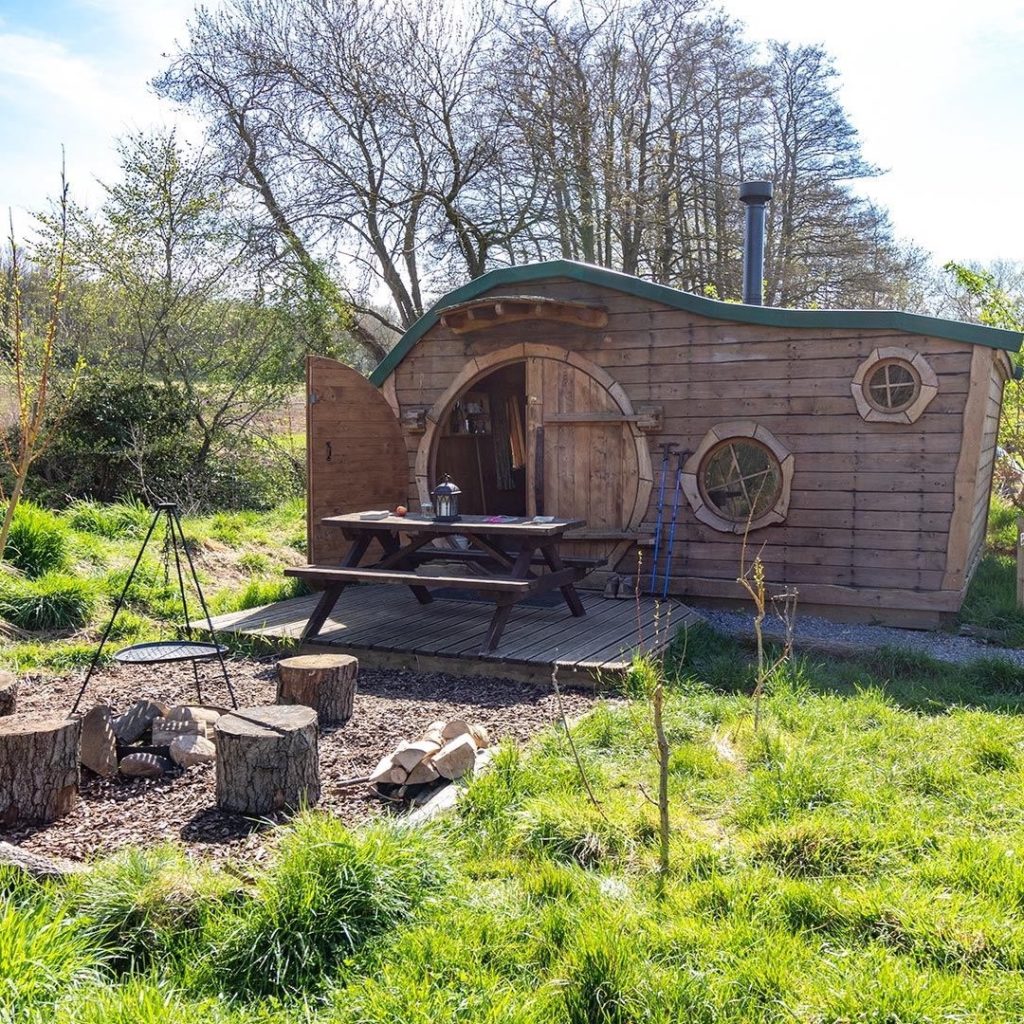 Baxby Manor, Husthwaite, York, YO61 4PW
The Hideaway is a truly unique getaway, tucked away on a 700 year old medieval estate and set within the iconic Yorkshire Dales.
You are invited to enjoy the site's stunning views and abundance of wildlife, from the peaceful setting of your glamping pod. It is a very popular destination for keen hikers and cyclists, plus you are conveniently located for visiting the delights of York City.
There are two varieties of glamping pod to choose from.
There are two Double Eco Pods, suitable for two guests, which offer shelter from the elements but in the spirit of a true camping experience, there is no electricity. There is a comfortable double bed, and outside features a fire pit.
There is also a 'Family Eco Pod', which is suitable for two adults and two children, and features a double bed and bunks. Outside there is a fire pit but remember there is no electricity to ensure you enjoy an authentic camping experience!
For more information visit The Hideaway at Baxby Manor
Wolds Glamping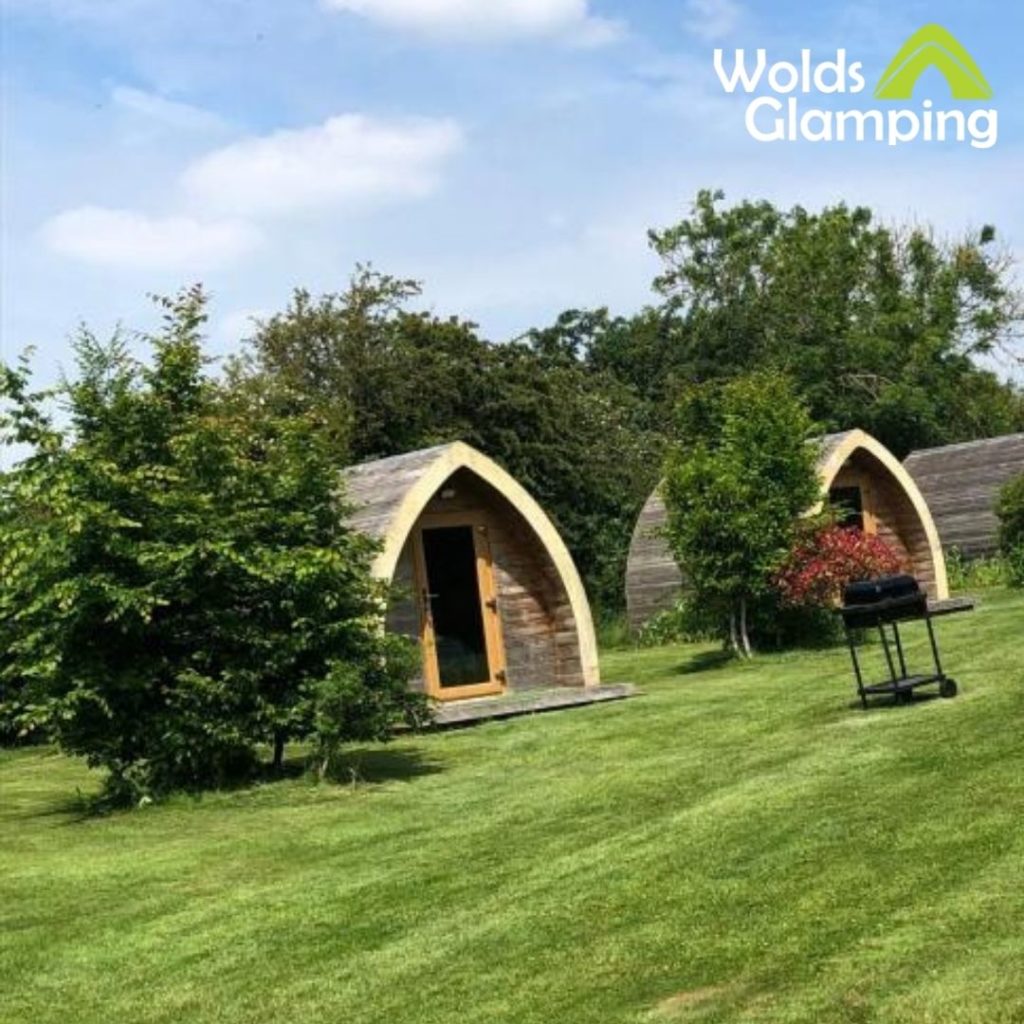 Ashfields, Canal Head, Pocklington, York, YO42 1NW
The owners at Wolds Glamping have over 25 y ears experience in hospitality, so they know what their guests want to enjoy their outdoor glamping experience.
The pods on offer are bespoke and were built on site at Ashfield.
They were designed with the intention of providing guests with the sensation of being at one with nature, whilst still encompassing the comforts of home.
There are six pods in total, all enjoy central heating, double glazing, electric points and LED lighting. The pods can sleep up to three adults and a baby in a travel crib.
There is a shared shower and toilet block and plenty of parking. Nestled within the rolling hill so the Wolds, you are guaranteed peace and relaxation.
For more information visit Wolds Glamping
Looking for other areas to stay, check out more Glamping Pods