Considering staying in Glamping Pods Yorkshire ( often referred to as a Camping Pods Yorkshire) but unsure which are the best Yorkshire glamping pods or Yorkshire Camping Pods to choose to stay, its hard to know where to begin.
We have compiled a list of the best Yorkshire Glamping Pods available. So if you are looking for glamping pods in Yorkshire, check out:
11 Stunning Glamping Pods Yorkshire Has To Offer
Camp Kátur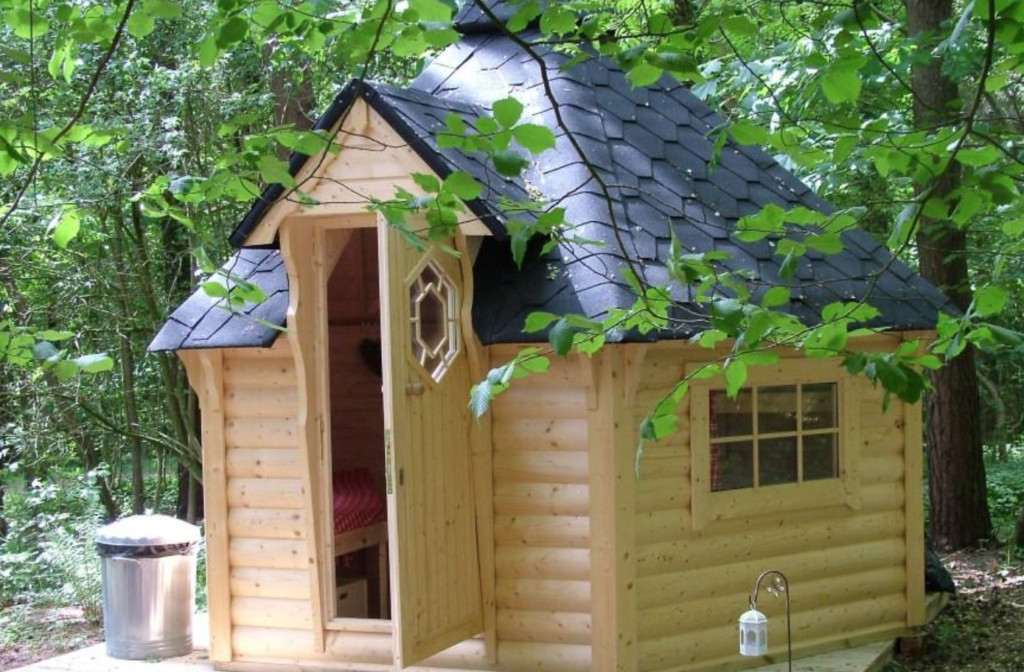 The Camp Hill Estate, Kirklington, Bedale DL8 2LS
Located on the doorstep of the Yorkshire Moors, Camp Kátur offer its guests a unique and truly memorable Glamping experience in North Yorkshire.
Offering a wide choice of bespoke accommodation styles, Camp Kátur has something to suit everyone. The pod accommodation is 'off- grid' and invites guests to really relax and be at one with nature.
Some facilities on offer at Camp Kátur include the Swing Park, Woodland Kingdom children's area, forest walks and pathways, and even a pub!
The Hebridean, serves locally brewed ales and hearty meals. Camp Kátur is the ultimate destination for families who want to experience true peace and tranquillity that allows you to reconnect.
As well as other quirky accommodation choices, there are two choices of glamping pods. The first, the "Romeo and Juliet Pod" which is suitable for two guests. It is cute and romantic, like something from a fairy tale! The second are "The Hobbit Pods".
They are suitable for up to 4 guests. Hobbit Pods provide a super cosy space to relax after a fun filled day spent playing and exploring the local countryside. These pods may be small in size, but they are huge in character!
For further information and to book Camp Katur
High Oaks Grange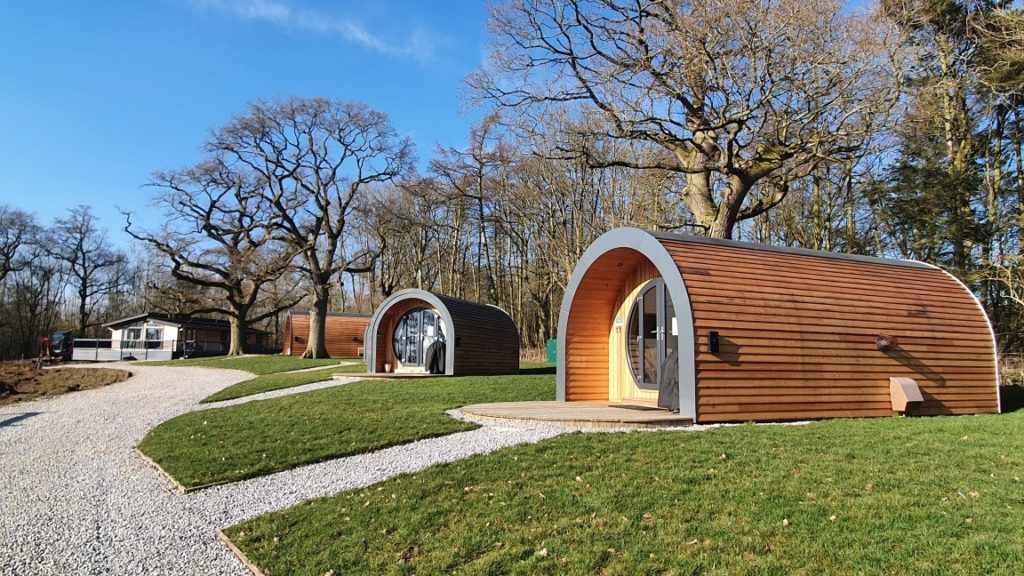 Thornton Road, Pickering, YO18 7JX
At High Oaks Grange you will find exclusively designed glamping pods. The family sized pods are the perfect size for a family of two adults and two children.
They offer spacious interiors and spectacular views. There are also pods available that are more suited to two guests.
The family pods consist of a lounge, a kitchen fully equipped with everything you need to enjoy a self-catering holiday, a king size bed, and bespoke bunks.
There's also storage and electric plug and USB sockets, as well as high speed Wi-Fi. A wet room, with a toilet, sink and shower completes the pods living accommodation. Outside features parking and a BBQ area. Finally, all members of the family are welcome, including your canine friends.
For further information and to book High Oaks Grange
Humble Bee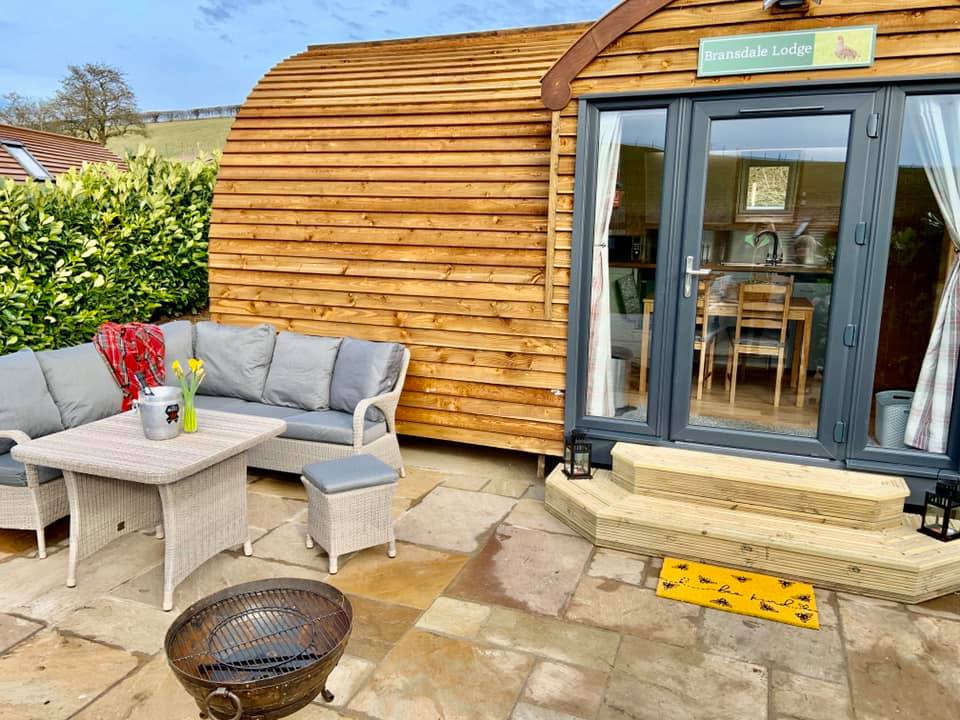 Flixton, Scarborough YO11 3UJ
Humble Bee Farm invites you and your family to escape the bustle of everyday life and make memories down on the farm! Leave behind your gaming consoles and phones and enjoy the fresh air while you reconnect with nature. Relax, recharge and come together as a family in a safe, tranquil environment.
At Humble Bee there's a variety of unique accommodation options. We are going to look at the Big Chief Wigwam Cabins.
These stylish, bespoke pod shaped cabins sleep up to five people and are a fun and affordable way to enjoy a glamping experience. To ensure ultimate comfort the pods are fully insulated and heated and are within an easy distance from the shared toilet and shower facilities.
For further information and to book Humble Bee Farm
Hillcrest Park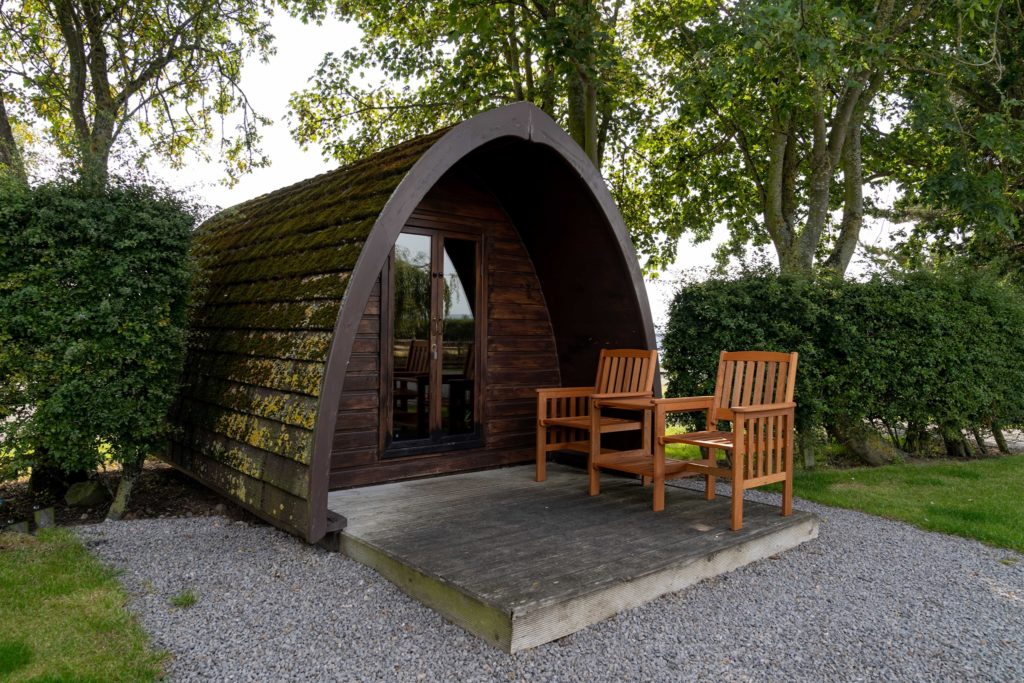 Caldwell, Richmond, North Yorkshire, DL11 7UD
At Hillcrest Park you are promised an authentic and enjoyable camping experience, only easier than what you may remember or imagine.
The pods are a cosy, carpeted capsule, offering heating, lighting and electricity, but you are encouraged to bring all the usual camping paraphernalia to ensure you have the best possible stay.
The camping pod experience at Hillcrest Park is exclusively for adults. This is because they were dedicated to providing a destination for grown – ups to be able to completely unwind and put themselves first whilst escaping the pressures of modern life.
As you sit outside your pod, you can really be at one with nature and re- charge your batteries. Whilst children are not invited on this occasion, dogs are very welcome to accompany their owners!
For further information and to book Hillcrest Park
Littondale Country and Leisure Park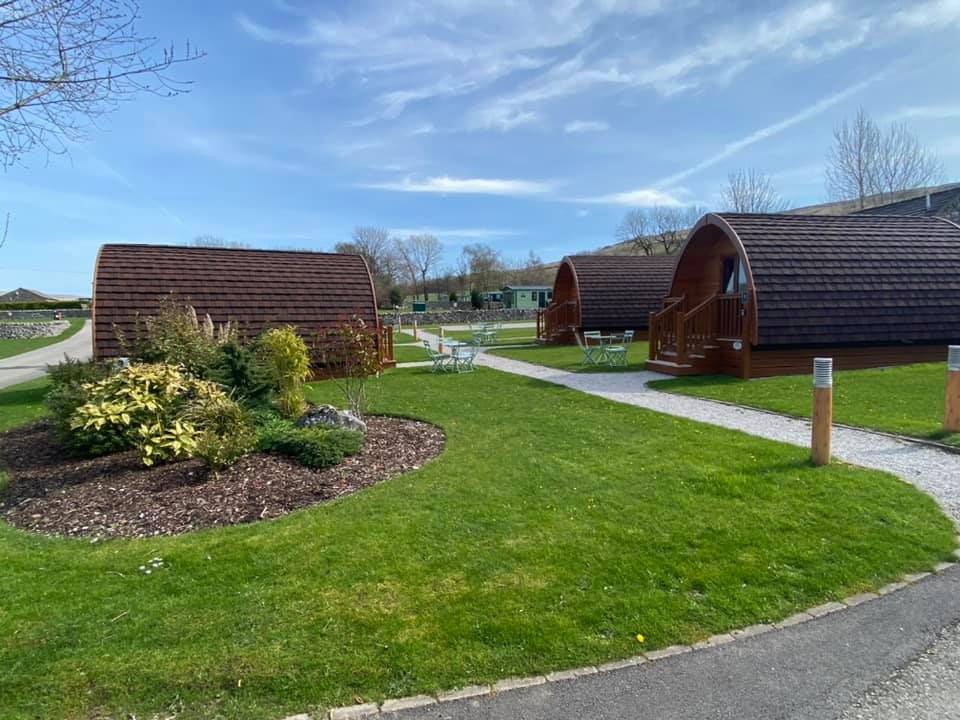 Arncliffe, Skipton BD23 5PX
At Littondale Country and Leisure Park, located in the peaceful valley of Littondale you can treat the whole family to a holiday in a trendy glamping pod with stunning views of the iconic Yorkshire Dales.
Activities available at the Leisure Park include golf, walking, cycling and fishing, so there really is something for everyone.
The glamping pods can be enjoyed all season as they are designed to cater for all weather eventualities! If the days are chilly the pod provides a cosy and comforting hub.  
During the summertime you can opt for a BBQ out in the sunshine. The pods offer a little piece of luxury with facilities including a kitchenette, an en-suite shower room and a TV.
For further information and to book Littondale Country and Leisure Park
Skipbridge Farm Glamping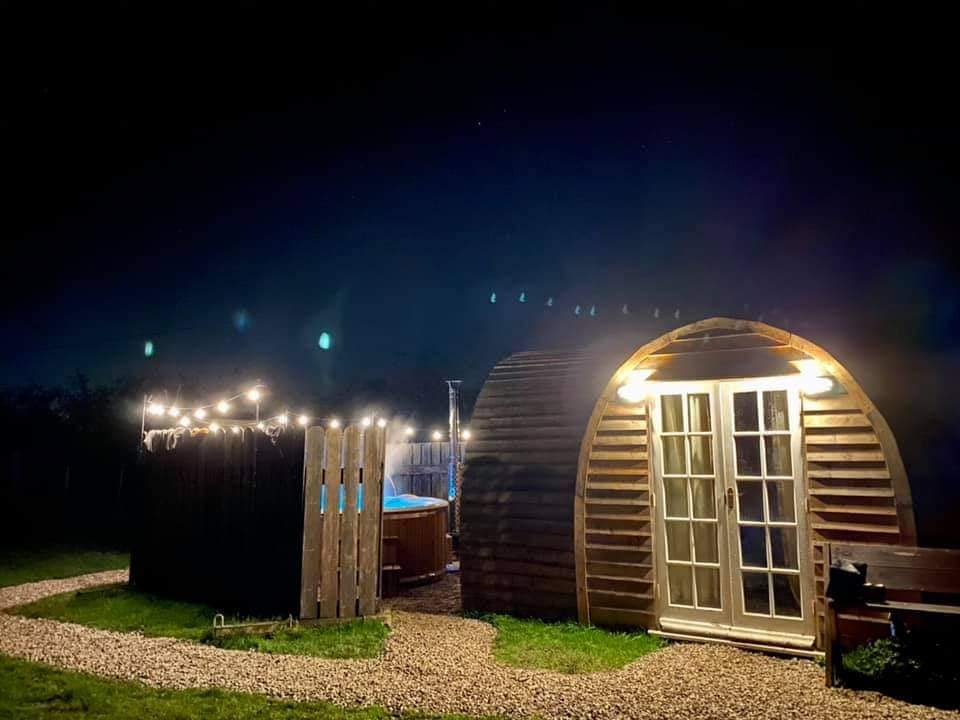 Skipbridge Farm, Green Hammerton, York, YO26 8EZ
Skipbridge Farm glamping truly offers you the ultimate in luxury glamping, in the heart of North Yorkshire. Relish the joys of camping and the outdoors without any hassle. The glamping pods are all hand made with 100% recycled wood and enjoy rustic and tasteful interiors. There are three different pods to choose from.
The Standard Pod
The Standard Glamping pod, sleeps two and features a double bed, complete bedding, tea and coffee facilities, on site toilet and shower block, private fire pit and bbq ,dab radio and towels provided. Dogs are welcome.
The Delux Pod with fire and bubbling hot tub
This luxurious Glamping pod, designed to sleep 3, features a wood burning stove, electric sockets and lights, plus double and single beds. Also, there is a fold out table with cutlery, wine glasses table matts etc. There are farm animals nearby to visit.
​This pod enjoys a large wood hot tub spa, nestled in the private garden where you can also enjoy a bbq, a fire pit, and a stone sink.
​The Delux Pod with fire and wood fired eco tub
The Delux Pod sleeps two adults and a child. It is fitted with a wood burning stove, electric sockets and a double and single bed. It features a fold out dining table. There are farm animals on the doorstep to offer company and entertainment plus a Scandinavian wood fired hot tub.
For further information and to book Skipbridge Farm Glamping
Squirrel Wood Campsite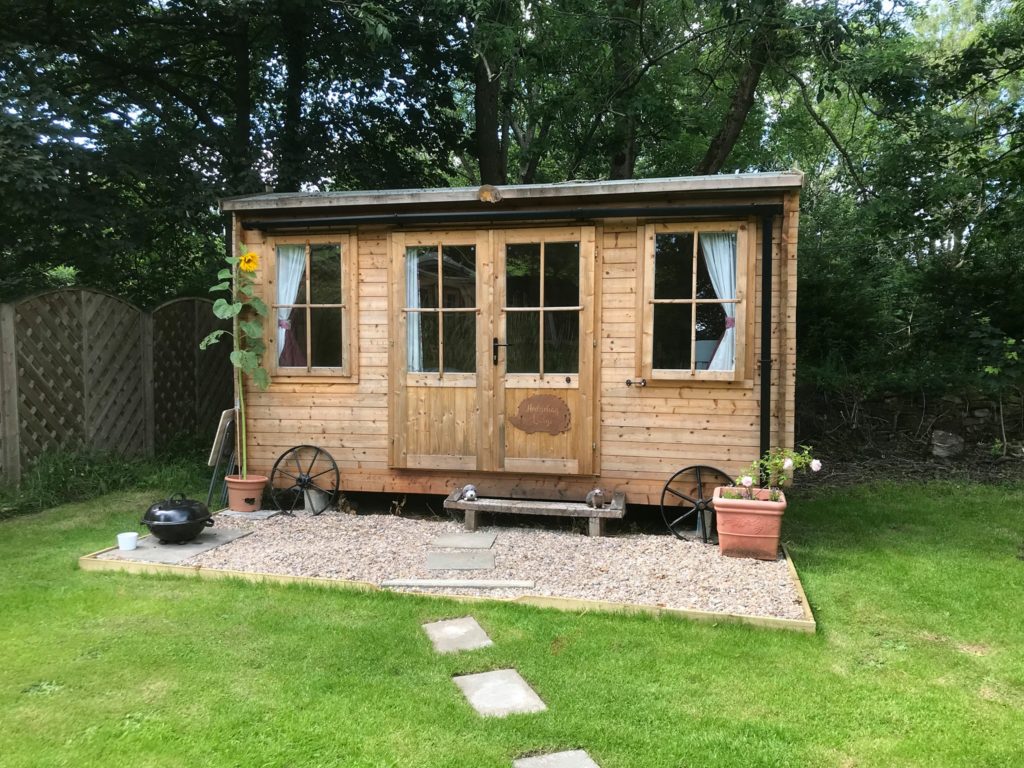 Ickornshaw, Cowling, North Yorkshire. BD22 0BZ
Located just 150m off the Pennine Way, making it the ideal holiday destination for hikers and outdoor enthusiasts, Squirrel Wood Campsite has four wooden camping pods that you can choose from. The pods are named after some of the gorgeous wildlife characters that you may be lucky enough to spot during you stay.
Hedgehog – sleeps 2, features a double bed, linen and towels
Owl – sleeps 3, features a double bed, a single bed and linen and towels
Squirrel – sleeps 2, features one double bed, en-suite and linen and towels
Butterfly– sleeps 3 features one double bed, a single bed and linen and towels
For further information and to book Squirrel Wood Campsite
Wharfe Camp Glamping Pods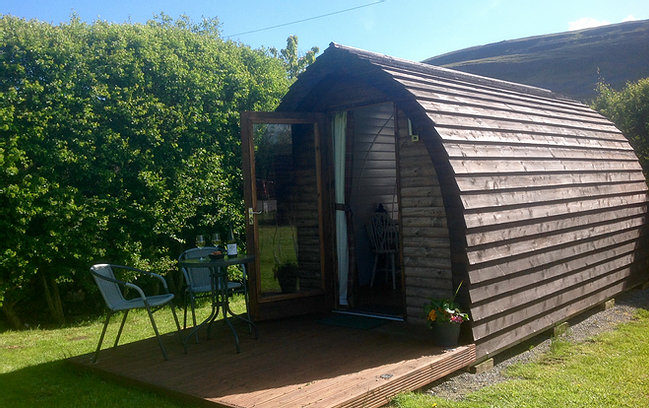 Wharfe Camp , Dowber House, Kettlewell, Skipton, BD23 5HX
Wharfe Camp Glamping Pods are located on a quaint, peaceful, adult-only campsite just outside Kettlewell Village. There are two identical pods available.
They are finished to a high standard and are designed to be comfortable and clean. They offer luxury outdoor living for 2 adults. The pods create a unique way to experience the Yorkshire Dales.
The pods feature heating, a double bed, linen and towels, a fridge, toaster, double hob and utensils for making basic food and drinks. Outside is a decking area with table and chairs for sitting out and enjoying a glass of something delicious whilst listening to the beautiful bird song.
For further information and to book Warfe Campe Kettlewell Camping Pod
Pinewood Park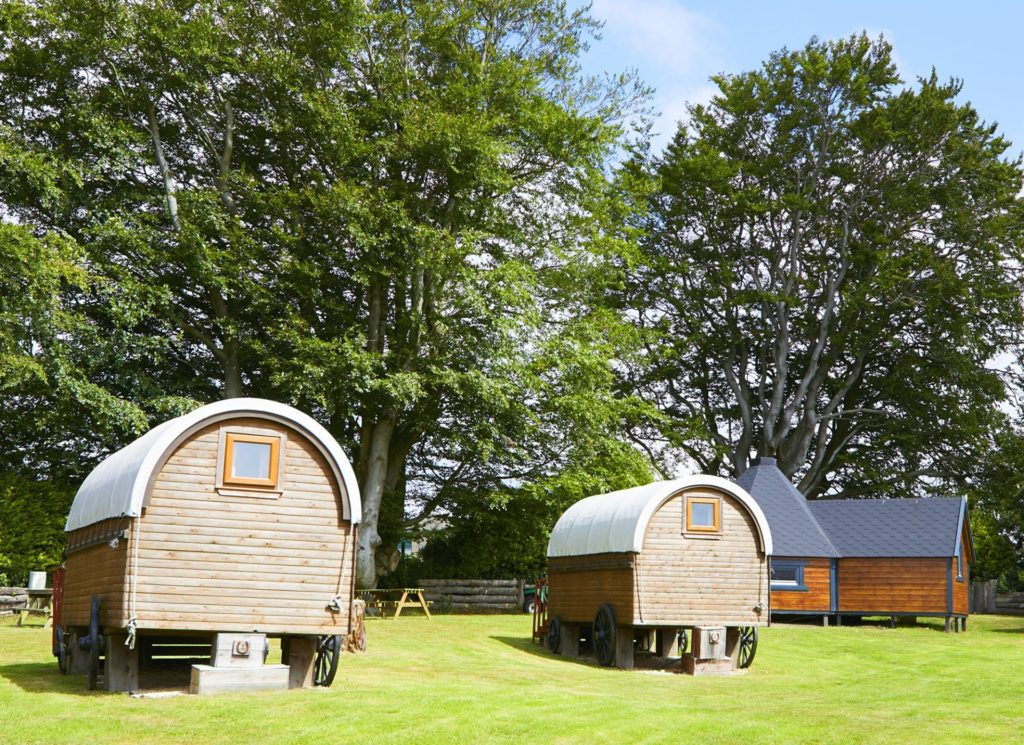 Racecourse Road, Scarborough, YO12 5TG
At Pinewood Park there is a whole range of quirky but luxurious glamping options available from three – bedroom lodges to western wagons on wheels.
Catering from 2 – 6 guests, in absolute style and comfort this outdoor destination is totally unique. Many of the accommodation options include hot tubs, for that added extra bit of luxury.
Pinewood Park invite you and your family to embrace the great outdoors and connecting with nature, whilst enjoying luxurious accommodation and not being too far from the convenience of the town.
For further information and to book Pinewood Park
Dacre Lakeside Park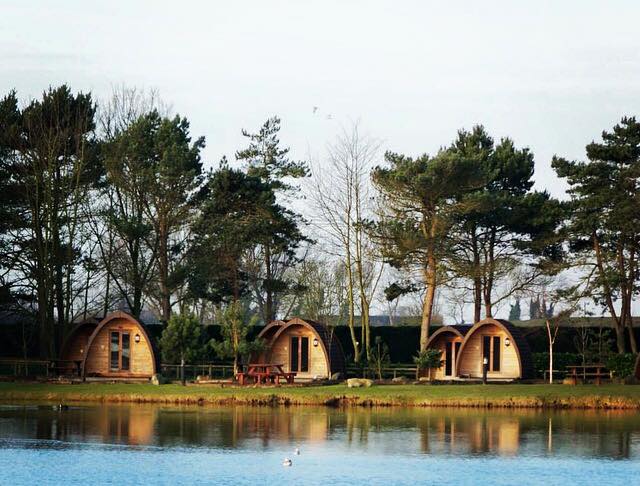 New Road, Driffield, East Yorkshire, YO25 8RT
The Camping Pods at Dacre Lakeside Park are well built and insulated wooden capsules that offer basic accommodation, almost like a tent but more stable!
They may not be particularly big but they do offer fair headroom, plus there is  a heater, carpet and a decking area outside.
The pods have been deigned with the guests comfort in mind so the roofing material absorbs the sound of any heavy rain, the doors and windows are double- glazed and the pod is ventilated.
Pods can be enjoyed in any weather, allowing you to always have the option of connecting with nature and escaping the strains of modern life.
There are two choices of pod size, the Standard Pod which caters for 2 adults and 2 children and the Family Pod which caters for up to 5 adults.
For further information and to book Dacre Lakeside Park
Seaways Glamping and Camping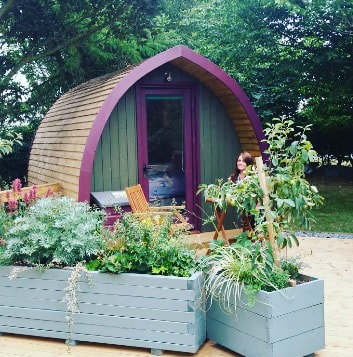 Fridaythorpe, East Yorkshire, YO25 9RX
In addition to the glamping accommodation, at Seaways there is also a café selling homemade local cuisine.  
The glamping pods available at Seaways are completely unique, all hand made and finished to the highest standard and located on a peaceful campsite.
Each pod is different in design, but they all offer underfloor and wall heating, insulation, and stunning views. The pods sleep up to 4 guests, and the slightly more spacious 'Cedar' features en-suite facilities and a kitchenette area.
Dogs are also welcome to stay with you in your pod, making this the perfect stopover for al the family.
For further information and to book Seaways Glamping
Check Out All Of The Glamping Sites on Offer.